Community
Central Rotary Raises $3,200 for CCAF
By
|
Photo by Expressions Photography; Story submitted by Lucky Ross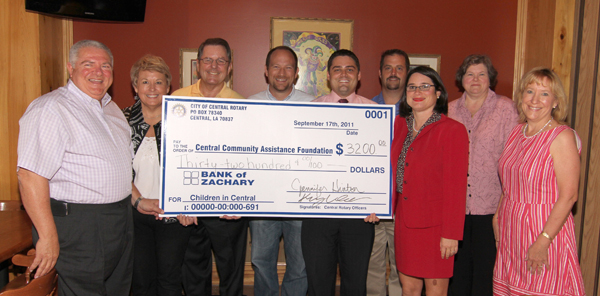 The newly formed Central Rotary Club recently held its first major fundraiser. The event was a well attended Fishing Tournament held at False River in New Roads, LA. Featuring cash prizes of $2000, a silent auction, door prizes and Jambalaya by Jerry Lee; the Central Rotarians were delighted to present the Central Community Assistance Foundation with a check for $3200.
The Central Community Assistance Foundation (CCAF) is a non-profit organization created to solicit, receive and distribute funds and other assets for the purpose of assisting students and their families living in the geographic area of The Central Community School System who are having economic hardships.
Rotary club President Jennifer Hinton presented the check at the clubs weekly luncheon held at Sammys Restaurant in Central on September 27, 2011. Pictured above are Frank Ard, Janet Stevens, Lucky Ross, David Latona, Kenny Wall, Craig Harris, Jennifer Hinton, Cheryl Ard and Mary Broussard.