Police/Fire
Central Businesses Damaged by Fire
By
|
By Mia Freneaux; Top photo courtesy of Central Fire Department; Other photos by Expressions Photography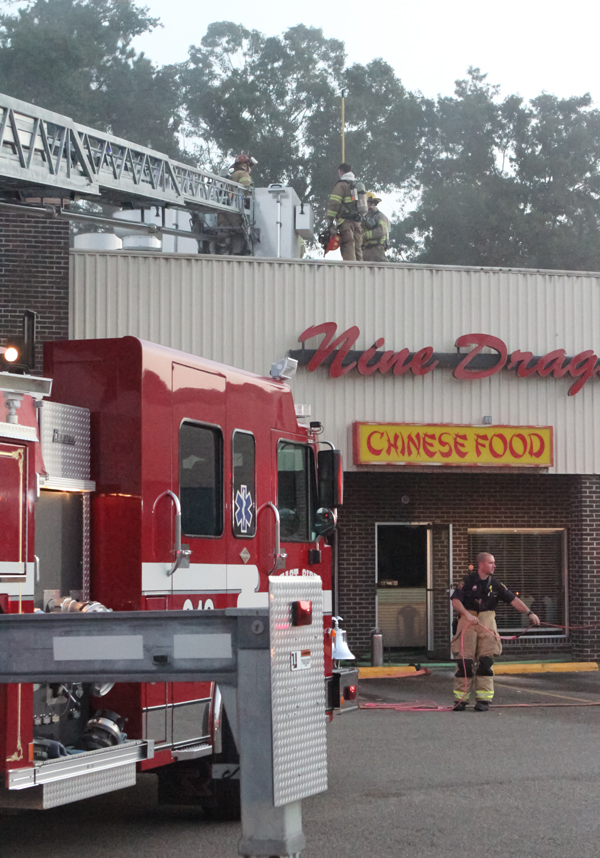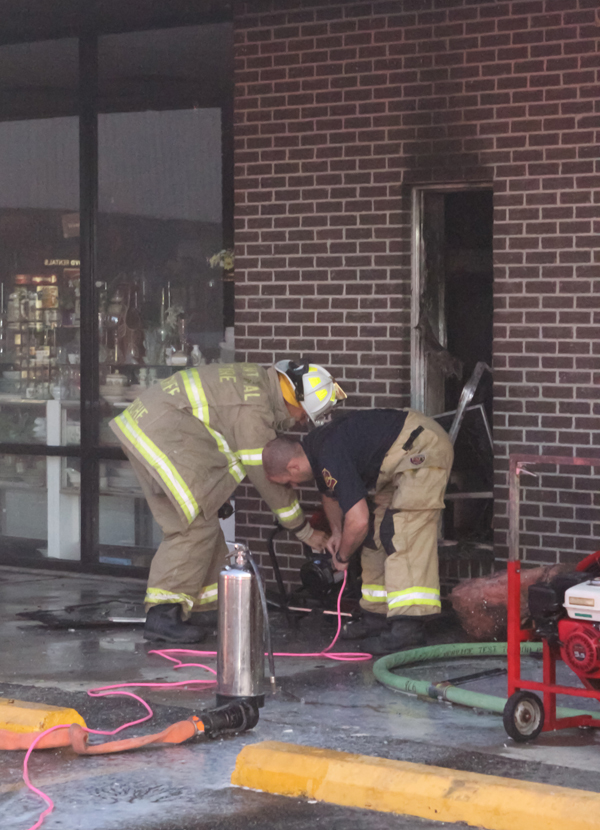 Early in the morning of September 22, Central Fire Department was called out to Nine Dragon Restaurant. They found the restaurant in flames. Assisted by the Baton Rouge Fire Department's Rapid Intervention Team and the East Side Fire Department, they extinguished the fire by approximately 7:00. The incident was determined to have been started by an electrical fire in the kitchen. Next door neighbors St. Vincent de Paul Thrift Store and Cajun Daquiris suffered smoke and water damage. Thankfully, no one was injured, though the damage to Nine Dragon Restaurant was extensive.
Lucille Dunn-Cox, Director of St. Vincent de Paul stores, said they plan to reopen the Central store in about 3 weeks. "Central has been so supportive," Mrs. Dunn-Cox stated, "So many have stopped by and asked how they can help." The Central store lost all of its clothing, linens, and books. They plan to salvage as much as they can, but donations are very needed and may be made at their store at 12107 Florida Blvd. "Please let Central know we appreciate our public for being so understanding," Mrs. Dunn-Cox said.
Mr. Brian Clouatre, manager associated with Cajun Daquiris, when contacted stated that they are still waiting on insurance adjusters and have made no firm plans at this time.
Nine Dragon owner Simon Dong was working with his employees this past Wednesday to clear out the debris. Melted plastic, soot covered dishes, soaked and burnt cans were all piled into the large dumpster in front of the building. "The first day I was sad," Simon shared, "then I realized that people were looking to me. The way I was, was the way they would be. I had to give them confidence. That was when I began looking ahead." Simon is not sure of the details of his future plans, but he knows this much. "We will rebuild!" he said with assurance.
While he was speaking, a lady ran up to give him a hug and explain that she had just heard about the fire. She offered her condolences and support. "Central has been so friendly to us," Simon had said just moments before. He related how encouraged he was by the messages he has received from his customers. He went on to say, "Our customers and our employees, those are the most important things. It is the people of Central that make us stay here."
Simon's plans are not complete yet. He knows he will reopen, but exactly when is still not definite. Professional cleaners must come in to restore the restaurant interior, and new equipment must be ordered and installed. "Please tell our customers we miss you, and we will be back!" he affirmed with conviction. His loyal customers will no doubt return that sentiment.
If you would like to leave Nine Dragon or St. Vincent de Paul an encouraging note, please go to their facebook pages. Central Speaks will keep everyone updated as plans develop.