Community
OLOL Children's Hospital Mansion: Vision Becomes Reality
By
|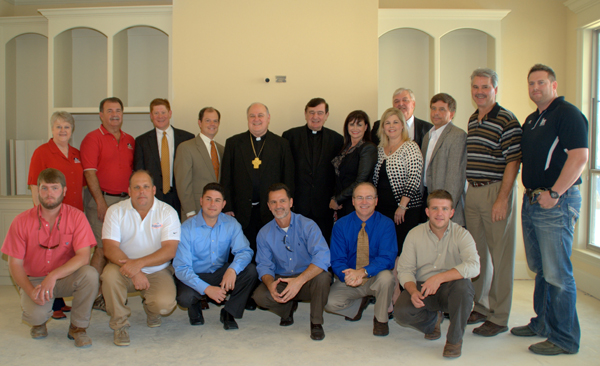 ABOVE: Standing: Lynda Evans (VP of CRBA), Wayne Dodge (Pres of CRBA), John Paul Funes (OLOL Foundation CEO), Scott Wester (OLOL CEO), Bishop Robert Muench (Catholic Diocese of BR), Fr. Mike Moroney (St. Alphonsus), Cheree Brown (Developer), Kim Arceneaux (KM-Ron Builders), Central Mayor Mac Watts, Danny Brown (Developer), Dwayne Gafford (Gafford Builders), Blake Sequin (JBS Companies); Kneeling: Greg Martinez (RamCo Builders), Steve Rabalais (Rabalais Homes), Adam Dufour (KM-Ron Builders), Ronnie Arceneaux (KM-Ron Builders), Dr. Kevin Hand (Zoar Baptist), Brandon Brown (RamCo Builders). Photo Courtesy of OLOL Foundation.
Take a vision, add generous hearts, and you get a miracle. Last Tuesday, dignitaries and clergy gathered at the Children's Hospital Mansion in Village Lakes Subdivision to watch Bishop Robert Muench bless the house that a miracle built.
Mayor Mac Watts had the vision to ask Our Lady of the Lake Foundation to build their Children's Hospital Mansion in Central. The Foundation responded with a resounding "yes!" Mayor Watts then sought out some generous hearts, and found them in Danny and Cheree' Brown, developers of Village Lakes Subdivision. The Browns donated a beautiful lot backing on one of the lakes with a fountain just outside the windows. At that point, 5 builders stepped forward and donated their talents and resources to create a dream home. Gafford Builders, JBS Companies, KM-Ron Builders, Rabalais Homes, and RamCo Builders have all contributed hours of their time to erect the two story home. They are all working in tandem with no thought of commercial rivalry, just a heart for a great cause. A sneak preview Tuesday revealed cathedral ceilings, gorgeous crown molding, tall windows looking out on beautiful vistas, spectacular tiling in the master bath, and graceful cabinetry in the kitchen. Everything has been donated, and it is all top of the line. Every builder there considers it a privilege to be involved in this grand undertaking, and we in Central are certainly privileged to have this caliber businesses operating in our town. In a word: miraculous.
The point of this amazing outpouring of generosity? The Children's Hospital at Our Lady of the Lake. This is their premier fundraiser of the year, and Central was chosen to host it. Tickets are on sale now for $100 to have a chance to win this beautiful home. Open houses will begin in November, giving the public an opportunity to see for themselves. The drawing will be held on December 6 on WAFB Channel 9. The challenge? How much Central can raise for this great cause!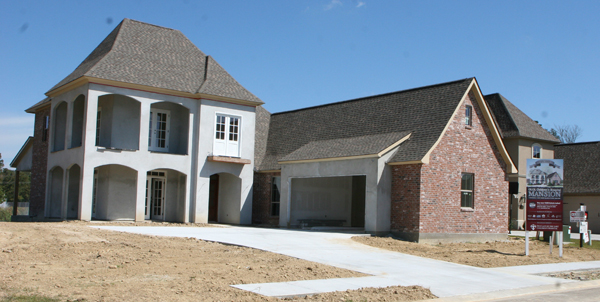 Along with Pastor Kevin Hand of Zoar Baptist Church and Father Mike Moroney of St. Alphonsus Catholic Church, Bishop Muench said a very moving prayer and blessed the property with holy water. Looking on were Lynda Evans, Vice President, and Wayne Dodge, President, of Capital Region Builders Association, John Paul Funes, CEO of the Our Lady of the Lake Foundation, Scott Wester, CEO of Our Lady of the Lake Hospital, our builders and our Mayor. The breeze rippled the lake behind the house, a bird called nearby, and it was easy to envision the happiness of the family that will one day live in the house built by a miracle.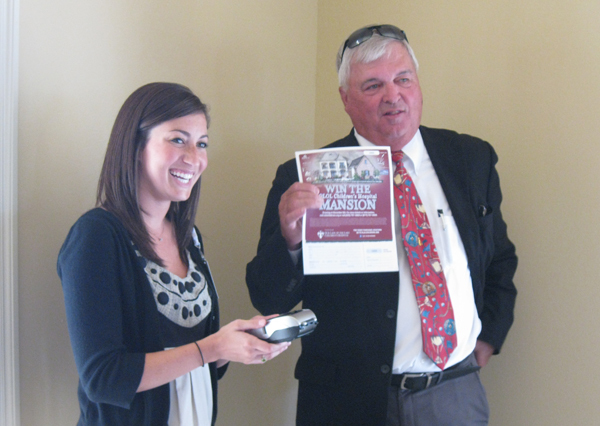 Above: Mayor Watts purchases his Children's Hospital Mansion ticket