Arts/Fun
Central Students Participate in Film & Feed for the Holidays
By
|
Submitted by Tina Kaufman; Photo by Pam Brown
MPD stands for Motion Picture Development. Through this program the students have learned writing, directing, cinematography, acting, and editing Motion Pictures such as Television, Digital Film, Documentaries, and more! Through the efforts of Digital Media Production House and the non-profit Louisiana Arts & Entertainment (LA&E), Producer/Director Aaron L. Williams has begun his On-Camera class that is televised weekly to offer Louisiana's children national exposure in addition to their training.
This first group of Louisiana actors featured below have been hard at work filming 10 episodes of "The Informer" on channel 10 weekly at noon. Now it is time for this group to have some fun and join hands with the Baton Rouge Food Bank to feed families. Filming to Feed!
The cast of Louisiana actors film their last two episodes and plan of having some fun on the show while they encourage other local students to give back to the community. The Cast will be at the Mall of Louisiana under the food court for a special meet and greet on Sunday, Nov. 6th from 1:00-4:00. The young actors are encouraging other students to collect nonperishable food items from friends and family as they collect items too. Bring your food donations to the mall on Sunday, Nov. 6th and join the Film & Feed! The Cast will be ready to Wop, Bernie and Jump on it…..collecting food for the holidays! Come out to the Mall of Louisiana and "Shake it up" at our food drive! You may just make the next show! Visit the site at MPDkids.org.
You are also invited to come by and help the MPD Kid's Club feed families!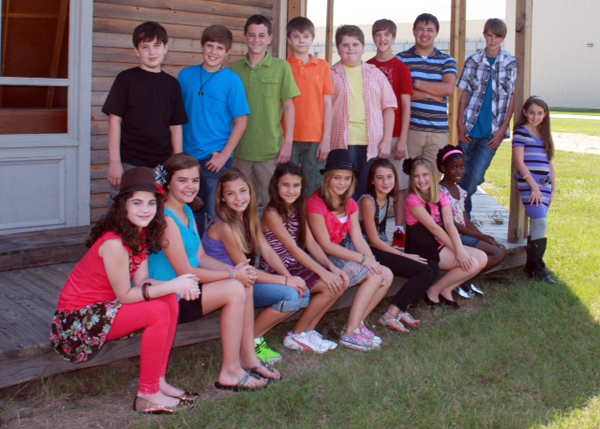 Back row: left to right (boys standing): Peyton Whitcomb, Brock Kaufman (Central student), Carter Hunt, Benjamin Leggins, Logan Watts, Ben Schexnaydre, Joshua Hodgenson, Casey Alfutis
Front row: left to right (girls seated): Chaislyn King (Central student), Katie Brown, Carol Wells, Bailey Sacco, Logan Guilbeau, Ashleigh Martin (Central student), Abigail Bernard, Allysia Williams, Alexandra Johnson. Not shown: Mark Mills and DJ Mills