Community
Two Brothers, Two Kinds of Service
By
|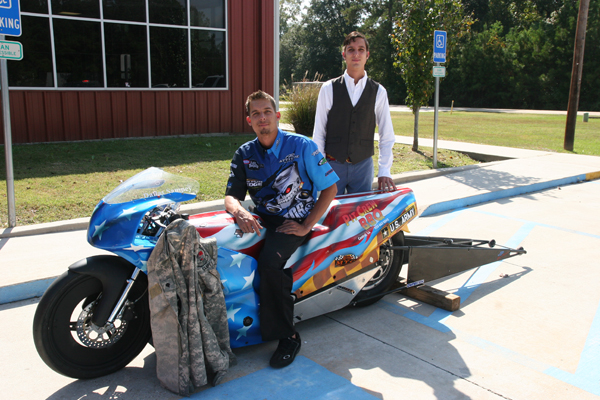 By Mia Freneaux
As far back as when he was 7 years old, Dallas Sampey has loved racing. So far back he can't remember, Darius Sampey has loved the military. Dallas and Darius are twins who grew up in Central and graduated from Central High School in 2006. At that time, Darius had already signed with the Army and was scheduled to enter boot camp one week after graduation. Dallas was looking to go to college to study Radiology. Even though LSU approached Darius about being on their elite Pershing Rifles Company, he was completely committed to enlisting. "I wanted to serve my country," he says simply. Dallas decided at that point that he would join the military too, "to prove I could make it on my own". They both enlisted under the Buddy Program, which would have allowed them to go through Basic Training together. Something happened along the way, and Dallas ended up in Ft. Sills, OK, and Darius in Ft. Benning, GA. It was at this point that their lives really diverged.
Dallas decided that he wanted to become a Flight Medic. In order to do this, he had to train as a Line Medic first. Serving in Iraq, he held positions both as a Line Medic and a Point Man with ground forces. He has since taken courses in Air Ambulance School and qualified as a Flight Medic, which means that in addition to being trained in medical evacuation on a medical platform specifically designed for personnel evacuation, when conditions do not allow a helicopter to land, Dallas is lowered on a cable to the wounded to treat them and fly them to safety. The highest he's dangled? "About 115 feet," he says nonchalantly. He was in the only unit that did overwater rescues in the Army. Dallas figures in a tour of duty in Iraq and one in Korea, he has saved 10 lives, both military and civilian, some in combat conditions. He is trained to do casualty rescue for Special Ops, Rangers, and Delta Force soldiers, meaning he knows how to handle the situations those specialized branches find themselves in. If he decides not to pursue a life career in the military, he wants to work in the private sector doing just what he's doing now. He is attending college to become a paramedic and receive an LPN while being full time military. Between assignments at the moment, he is reporting to a new unit at Ft. Campbell this month.
Darius had planned to attend school in the Army to qualify to guard the Tomb of the Unknown Soldier in Arlington, Virginia, a very elite position. He received several vaccines at once from the Army during Basic. The next day he noticed hearing loss, went to the medic, and was given an antihistamine. The following day, his hearing was completely gone, along with his chances for a military career. Strangely, when his mother called Dallas, 1000 miles away in Oklahoma, his first words were, "What's happened to Darius?" It was discovered later that receiving so many vaccines at once triggered an autoimmune response that confused the genetic markers and made Darius' immune system destroy the fine hairs that line the cochlea. "If you ever notice issues with your eyes or ears, get them seen to right away!" he said from sad experience, "They might have reversed my hearing loss if I had received the right treatment immediately." Thankfully, the Army did give him cochlear implants after a year of having to communicate with a dry erase board with friends and family. "My great granddad served in the 82nd Airborne in World War II, my granddad in the 101st as a Ranger in Vietnam. I was supposed to be the third generation, but it didn't work out that way," Darius shared. He looked at his options and decided to pursue studies in International Relations/Constitutional Law at Tulane University, pursuing a Graduate Degree at Georgetown University, and a Doctorate at Harvard, with the idea of joining the Foreign Service and becoming an Ambassador. "That way, I can still serve my country," he stated, "Dallas is working on the war side, I want to work for a substantiated peace rather than a short term peace, and I figure this is the way to do it." Interestingly, Darius discovered recently that one of his grandfathers has a PhD in International Relations at the University of Missouri.
Dallas is pursuing his childhood dream. "I've always wanted to be a professional racer. I went to a practice course with my cousin Angelle Sampey and my reaction time was such that she suggested I pursue motorcycle racing." She should know. Angelle is the most winning female pro stock racer in the world. Dallas, with help from Harold Laird of Pit Crew Barbeque, one of his sponsors, and Mike Phillips, a pro stock racer with the NHRA, proceeded to build a Suzuki GS1100 Pro Stock bike. Harold and Mike also serve as Dallas' pit crew when they have the time. The bike's engine, a 1655 cc pro-stock with around 350 hp, costs $35,000 all by itself. Ed Palubinskas and Keith Gregoire of Keith's Pro Paint helped to paint the body red, white and blue. "If you notice the decals, you'll see one for 'Racers for Christ', an organization that travels to tracks and holds services. They provide a Christian community for racers," Dallas pointed out. Other decals include one for Pit Crew Barbeque and one for the Army.
To qualify, racers must first have their bikes examined by track officials to be sure they meet all safety requirements. Even the thickness of the bike frame is carefully measured. Then up to two days are spent testing and tuning the bike for altitude changes, humidity, air density and other variables. Darius, an "honorary crew member" according to his brother, does final checks on the bike to be sure everything is secure. Qualifying races place racers in certain spots on the ladder for the actual races on Sunday, which can go up to 4 to 5 rounds. In less than 7 seconds, bikes race at over 180 mph over ¼ mile of track. Despite the great speed and lack of protection, there has never been a fatality in professional motorcycle racing. Dallas was scheduled to go to Las Vegas this past weekend to take part in his first race, but was unable to get his professional pro-stock license in time. He plans to race while on leave in several of the 24 events held annually in the NHRA Full Throttle Series, which take place all over the country. His other goals? Get a new trailer to transport the bike with all his equipment, and "to find more sponsors," he says with a grin. To race the entire series costs about $250,000 each year.
The Sampey brothers demonstrate what determination and focus can do in a person's life. 2 weeks after Darius was released from the Army, he was working at Subway Restaurant. He was held up at gunpoint, but chased the thieves out of the store. For that he was pistol whipped and shot at (thankfully, they were bad aims). Dallas has dealt with losing one of his patients. With all they've experienced, though, neither brother is letting anything hold them back. As Darius puts it, "You only get one chance to live this life; you have to make the most of it."