Business
Business Spotlight: Geaux Glo Spray Tanning
By
|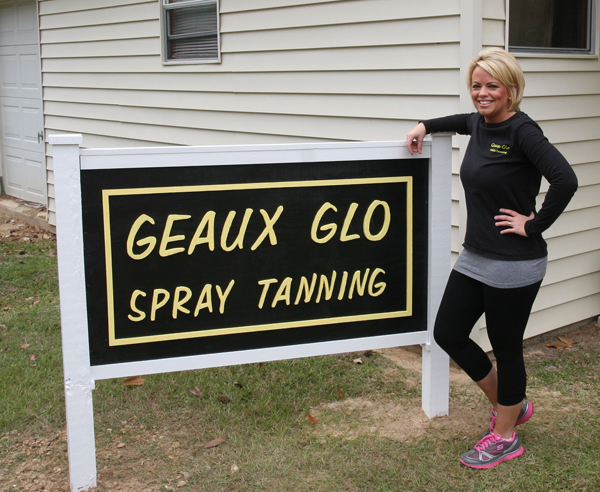 By Mia Freneaux
To say Jessica Landers is passionate about her business is a huge understatement. She has good reason to be. Jessica (nee Robertson) was born and raised in Central and graduated from Central High School. Her family has been here for generations. It wasn't til she'd married and moved away for a few years, however, that she found her motivation to embark in her business, Geaux Glo Spray Tanning.
In 2006, Jessica discovered multiple tumors on her body. She became so ill she suffered heart failure and even became temporarily wheelchair bound. Several surgeries and three years later, this mother of two little boys found herself cured – through prayer. "God healed me," Jessica says simply. Her doctors believe her illness might have been caused by all of the time she had spent in high school – on a tanning bed. "A friend of mine shared with me about spray tanning and I realized I was perfect for this. I believe God led me to get into this business to reach out to other women," Jessica shares, "Since I started Geaux Glo, I've met numerous women, some just in their twenties, who have suffered through skin cancer. I use my business as an opportunity to share my story and warn them of the dangers of tanning beds."
Jessica uses a special machine called an "HVLP Hand Held Professional Tanning Machine" which applies the tan in a guaranteed no streak, no "orange" fashion and then dries you instantly. The entire process takes only 10-15 minutes. " I use top of the line, organic, non-scented, paraben-free products. They are the same products used officially by the last two Miss America Pageants. I call them a 'Vitamin Dip' because they contain Vitamins A, C, E, Co-Q-10, green and white tea extracts, anti-aging firming cream, and aloe. It nourishes your skin." Jessica had to pass several courses and testing, plus practice sessions, to become certified and licensed in the process. She will work out of her office but will also meet clients in the privacy of their homes if they so desire.
Jessica had been running Geaux Glo out of Judy's Heavenly Hair, but she and Judy found themselves so busy she decided she'd have to find a place of her own. "I was talking one day to Bobbie Devall, one of my clients. I found out for the first time that she is married to Mr. Doug, owner of DB Associates Tax Preparers. His great grandfather and mine were great friends. Mrs. Bobbie heard about my need for a location and she said, 'Jessica, I have a gift from God for you!'" The upshot was Jessica has moved to her new location – right next door to DB Associates and behind Tiger Plumbing on Sullivan Road. " My wonderful supportive husband Damon helped me get everything ready, and my good friend Kristen Perrin of 'Pretty In Paint' painted my walls. I'm so excited!" she enthuses.
Jessica offers many specials. She has wedding party packages for 5 or more where the bride gets a free tan and each member of the party recieves $10 off. She has many other tanning packages available. She is running a special right now for $25 tans, $20 off the regular price! "Spray tans last from 5-14 days, depending on how well the client cares for them. I show my clients how to get their money's worth and make theirs last through proper moisturizing and hydration." Call Jessica today for an appointment. Geaux Glo Spray Tanning is open Monday through Wednesday and Saturday by appointment only, and Thursday and Friday from 10-2 and 4-5:30 for walk-ins. She will also schedule house visits. Look for her sign behind Tiger Plumbing, 11247 Sullivan Road. Phone 270-7172.