Editorial/Op
Mike and Denise Kelly – Loving by Example
By
|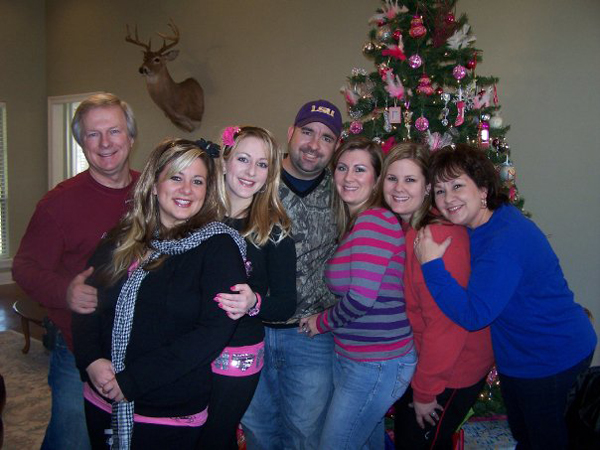 By DeeDee Dupree
I met Mike and Denise nearly thirty years ago. Over the years, it has become abundantly clear this is a mighty, unbreakable couple, with the blessing of God upon their marriage. They live, love and learn God's word every day. Recently celebrating their thirty-eighth wedding anniversary, I asked what their secret to a successful marriage was. Almost in unison, they answered, "Put Jesus first! Honor God. The couple that prays together stays together."
Mike and Denise met in 1972 at Glen Oaks High school. Their upbringing and family differences were extensive. Denise came from a Christian home with parents, Lucille and Denver Evans, whose marriage was strong and centered on the Lord. They have been married nearly sixty years and are the example that Denise modeled her own marriage after. In the beginning, Mike was not serving the Lord, but through prayers and divine intervention, he dedicated his life to God. "He was the desire of my heart," Denise stated fondly. They were married in 1973, only a year after they began dating. They are now the proud parents of five kids, five grandkids and one on the way.
They have been long time Central residents and made Journey Church their home for worship in 2008. They were determined to find a church that the whole family could be a part of. This family truly exemplifies the spirit of volunteerism that the central Community is known for. When asking other central couples how they would describe Mike and Denise, they simply replied, "Perfect!" I asked what they thought about that and they stated no one person or relationship is perfect. They strive to be an example to other couples, but do not pretend to see everything or every situation exactly the same. As potential conflicts arise, they go to God first. They do not wait to see if they can fix it on their own. They know God can and will bring them through any situation.
With over 60% of marriages failing these days, I wanted to see what advice they would have for newlyweds or couples considering marriage. "Couples of all ages and in any stage of their marriage can benefit from a 6 disc series called The Song of Solomon. It is by Tom Nelson and can even be found on itunes," Mike suggested. If each household will honor God, and one another, there is no place for the devil to destroy the marriage. In listening to them, it is apparent that they truly enjoy living life, they do not take each other for granted and they treat each other in the same manner they did when they first tried to seek the attention and favor of the other.
Denise tells couples of all ages, to keep the 3 A's in their relationship. ATTENTION, AFFECTION AND APPRECIATION. "That is a daily requirement. Choose to be happy, pray for one another and always encourage each other. Take care of yourself and your appearance, keep the spark alive, look good for each other and give compliments," she suggested. "I also believe that couples need to take their vows seriously. Never go into a marriage with the mindset, well if it doesn't work out, we can just get a divorce. Know your marriage is for a lifetime before saying those vows to one another. Be determined to make it work because it is a promise to God."
I asked Denise to describe her husband Mike and she replied, "He exemplifies 1 Corinthians 13:4. He is patient, kind, he does not boast, he honors others, he is not easily angered. He treats me with respect and tells me how much he loves me every day. He is a genuine man. He lives his witness every day. God blessed me beyond measure." She also stressed how important it was to set an example to your children through your own marriage.
With God's love and guidance, couples can break generational curses of divorce. I had the privilege of speaking with their daughter Joni and she reinforced what an example they were to her. She has stated she would not want to settle for anything less that what she sees in her parents' marriage. She loves the way her father treats her mother and hopes to always have that in her own relationships. I personally feel that is the highest compliment she could have given them. I also asked a dear friend of theirs, Dena Arnone, to describe the couple. She said, "They are a great example of God's perfect plan for a successful marriage. I am blessed by their friendship."
When I asked Mike to describe Denise, without an ounce of hesitation he stated, "I treat her as my queen. I've nicknamed her P31, (referring to the scripture Proverbs 31). She is a virtuous, Godly woman. She lives up to every aspect of that scripture. She is a wonderful example to my children and to members of our church. We have a home that honors God. We both give 100% to our marriage and I am proud to be her husband. She is my best friend."
Those that know them best say they have never seen this couple argue or belittle one another in any way. Their relationship is a miracle; they give no place to the devil. They teach others with their actions instead of words. They don't react to worldly things, they simply respond with God's love. They believe in treating others the way they want to be treated. The first thing they say to their children or other couples in need of advice is, "Lets pray about It." They believe there is always a solution in HIS Word. God has the answers and wants to give it to us. He wants to restore the many broken marriages in and out of the Central Community. He is a God of second chances. God is their source for a successful marriage.
I am personally thankful to know this exemplary couple.
Mike and Denise Kelly,
enjoying God's Gift of Marriage