Business
Cafe Delphi – A Greek Treat for Central
By
|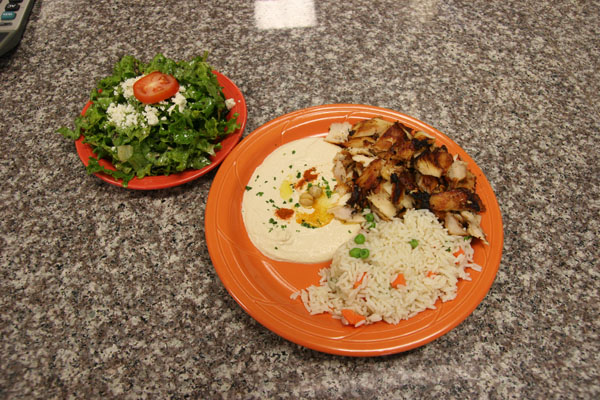 By Mia Freneaux
Stepping into Café Delphi Mediterranean Restaurant, I was immediately assailed by the delicious aromas of roasting meats and spicy sauces. Mir Hassan, owner of Café Delphi, effortlessly sailed around his kitchen, preparing marinated chicken for the rotisserie, carving juicy slices of tender meat, inspecting the crisp produce. His ease comes from long practice. Mir has been involved in the restaurant business for 18 years. Though he graduated with a degree in science, Mir decided he wanted to work for himself. He is now working on building his latest franchise, Café Delphi. "I own another restaurant on Coursey Boulevard," Mir stated, "We are just down the street from another Greek restaurant, yet our lunch hour is still a mad house!" To what does he attribute his success? "We don't play around with food quality," he asserted, "I insist on only the freshest ingredients. Everything we serve is made fresh in-house, using our own special recipes." The hummus, for example, is prepared each day in a $1100 blender purchased for just that purpose! He also credits his staff, trained for weeks to understand every aspect of food preparation and service.
His satisfied customers attest to the truth of his statement. According to Mir, 80 percent of his business comes from return customers. While at the restaurant, I was informed by customer Sheila Trahan that "the Delphi Pasta with Chicken is Amazing! I ate it for lunch, then had two more meals off of the leftovers!" Customer Michelle Robertson affirmed, "The Chicken Shawarma Plate is definitely my favorite!" A quick look at Café Delphi's Facebook site offers the following feedback from Central residents: "I love the new restaurant in Central, Louisiana. The food is wonderful. I was blessed last night with this wonderful meal – sooo good." Another customer wrote, "I love Greek food and just tried it out, delicious!" Still another simply wrote, "YUM!" Many praised the homemade Baklava. I had the delicious treat of gyros and chicken shawarma, with a side of home-made hummus, salad and rice pilaf. The hummus was fantastic. Sorry Sabra, fresh just can't be beat. The gyros meat was tender and spicy, the chicken juicy, with a lightly crisped exterior from the rotisserie. The side salad was lovely dark green lettuce (no iceberg here!) topped with feta cheese, tomato, and an herbed house dressing. The Rice Pilaf was perfectly cooked. Mir says his customers' favorite is the Chicken Shawarma, and it is easy to see why.
Café Delphi offers Daily Specials which change each day. They can be found online at www.CafeDelphi.com. and also on the Central Now app. In addition to the many traditional Greek and Lebanese dishes on their menu, they offer a variety of appetizers, a favorite being the Fried Cheese, which is Goat Cheese lightly sautéed with garlic in olive oil, served with pita bread. "Goat cheese is very good for you," Mir states, "It is non-fattening!" In fact, the Mayo Clinic praises the "Mediterranean Diet" as being one of the healthiest diets one can eat. The fresh vegetables, low fat meats, and olive oil all combine to reduce the risk of heart disease, cancer occurrence, Parkinson's and Alzheimer's. The Mediterranean Diet also emphasizes the use of spices and herbs to flavor foods instead of salt. Mir says that while all of Café Delphi's dishes are traditional Greek and Lebanese recipes, they do use their own "secret spices" to give their menu their signature flavor.
Café Delphi has only been opened 2 weeks, yet they already face their next challenge. "We can already see the need for expansion," Mir says. Outdoor dining is the next goal. He is also opening another Café Delphi Express at Highway 42 and Airline Highway. Customers can dine in, or order take out, either in person, by phone, or through their website: www.CafeDelphi.com. You can even pay online. Come by Café Delphi, 18564 Magnolia Bridge Rd, and taste for yourself! Phone 663-6649, hours Monday through Wednesday 11-8, Thursday – Saturday 11-9, Sunday 12-3. Catering is available with a 3 day notice.