Community
Placing of Wreaths at National Cemetery Set for December 10
By
|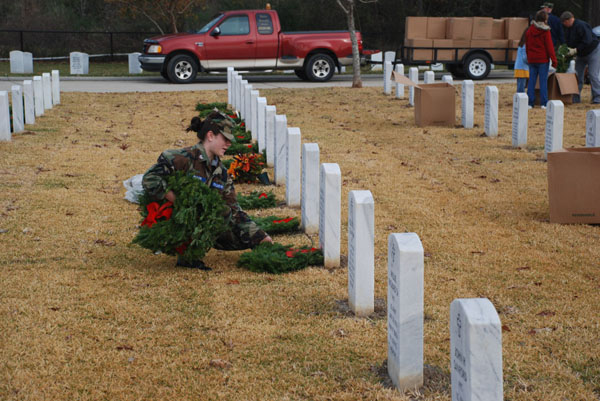 Submitted by Major Lois Hopwood
The local Civil Air Patrol is participating in the placing of wreaths on the graves of fallen soldiers in the national cemeteries. Wreaths are placed on the graves of the soldiers at the same time throughout the world on December 10 at 12:00 noon. Wreaths Across America carries out its mission to REMEMBER the fallen, HONOR those that serve and TEACH our children the value of FREEDOM in part by placing wreaths on veterans' graves during the holiday season.
"Capitol City Composite Squadron will place wreaths in Port Hudson National Cemetery in conjunction with National Wreaths Across America Day on the 2nd Saturday of December" said Lt. Thom Hamilton. We are asking that the public help with purchasing wreaths. The cost of each wreath is $15, if you purchase two wreaths we get the third one free. Last year we placed almost three thousand wreaths at the Port Hudson national Cemetery. Wreaths Across America ceremonies will take place at over 500 locations in the USA and 24 off shore.
We are inviting the public to come to Port Hudson National Cemetery and view the ceremony and if you have a member of your family buried you may present the wreath yourself. To get an order blank go to the WREATHS ACROSS AMERICA website http://www.wreathsacrossamerica.org/ and get the complete information and history. Please note to use our ID# LACAP010 and cemetery ID# LAPHNZ when sponsoring a wreath. With your help our local heroes will be remembered this Holiday Season.
The Wreaths Across America Team
call 224-413-3207 for more info