Community
Lane Auxiliary Awards Service Pins
By
|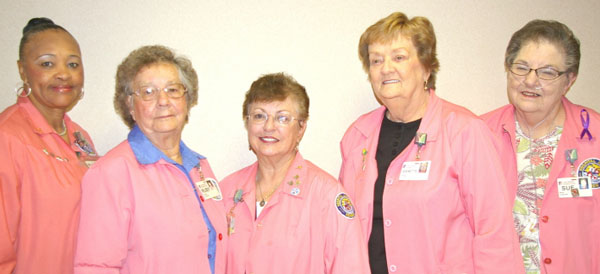 Pictured l to r: Velita Benjamin, Ruby Benoit, Jackie Ard, Jeannette Carroll and Sue Bean.
Not pictured: Cheryl Brown, Betty Anne Buell and Sandra Ligon.
Submitted by Delores Sutton
Eight members of the Lane Regional Medical Center Auxiliary were recognized for their service to the hospital at the Auxiliary's General Meeting on Tuesday, November 8.
Liz Owen presented each member with a service pin representing their hours of service. Auxiliary members receiving pins were Ruby Benoit (4,000 hours of service); Sandra Ligon (4,000 hours of service); Jackie Ard (2000 hours of service); Sue Bean (2000 hours of service); Velita Benjamin (2000 hours of service); Jeanette Carroll (1000 hours of service); Cheryl Brown (500 hours of service); and Betty Anne Buell (100 hours of service).
Auxiliary members work at various information desks throughout the hospital where they help visitors and monitor the comfort of the rooms. Gift shop workers interact with patients, visitors and hospital staff. Others accompany patients and visitors to their destinations in the hospital. The guest services cart, taken to patient rooms by Auxiliary members, offers complimentary coffee, magazines and other reading materials.
The Lane Auxiliary has been in existence since 1960, providing volunteer service and financial support to the hospital. There are approximately 50 active members. For information about how you can become a volunteer, contact the hospital Gift Shop at 658-4309.