Community
Alvarez Construction Breaks Ground for 2012 Baton Rouge St. Jude Dream Home® Giveaway
By
|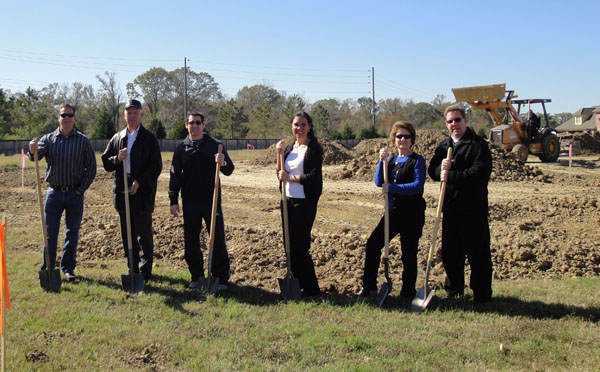 Pictured left to right: Mike Murphy of GM Investments, Jairo Alvarez of Alvarez Construction, Chris Gendusa of Carriagewood Estates, Ana Tanner of Alvarez Construction, Susan Waldrop of Epsilon Sigma Alpha and Sam McGuire of WYNK.
Representatives of St. Jude Children's Research Hospital® joined Alvarez Construction to break ground on the 2012 St. Jude Dream Home® house on December 1. The four bedroom, three bath house to be valued at approximately $450,000, is being built in the Carriagewood Estates Subdivision. It will feature many luxurious amenities including a deep veranda style front porch, hardwood floors, granite countertops and a butler's pantry. Residents of Baton Rouge and the surrounding communities will have an opportunity to win the newly built home valued at approximately $450,000. A limited number of chances to win the St. Jude Dream Home house and additional prizes will go on sale for $100 each beginning in January 2012. The winning names will be announced during a live giveaway special on WBRZ Channel 2 in April 2012. All proceeds from the giveaway will benefit St. Jude Children's Research Hospital, one of the world's premier pediatric cancer research centers. Sponsors of the 2012 St. Jude Dream Home campaign include WBRZ, Alvarez Construction, WYNK 101.5 FM, Carriagewood Estates, Citizens Bank & Trust, The UPS Store, Brizo and Dream Day Foundation. For more information about the St. Jude Dream Home Giveaway, visit www.dreamhome.org.
About St. Jude: St. Jude Children's Research Hospital is internationally recognized for its pioneering work in finding cures and saving children with cancer and other catastrophic diseases. St. Jude is the first and only pediatric cancer center to be designated as a Comprehensive Cancer Center by the National Cancer Institute. Founded by late entertainer Danny Thomas and based in Memphis, Tenn., St. Jude freely shares its discoveries with scientific and medical communities around the world. St. Jude is the only pediatric cancer research center where families never pay for treatment not covered by insurance. No child is ever denied treatment because of the family's inability to pay. St. Jude is financially supported by ALSAC, its fundraising organization. For more information, please visit www.stjude.org.