Church
Blackwater Youth Serving Many
By
|
Submitted by Amanda Davis
Now that the weather is turning cold, and the Christmas music has begun, the youth of Blackwater United Methodist Church have been busier than ever! On November 22, a group of twenty traveled to Hope Ministries in Baton Rouge to distribute Thanksgiving meals to families in need. On December 3 & 4 the youth participated in the church's Journey to Bethlehem, a drive though live nativity story. On December 11, the group will travel to homes of elderly church members to spread Christmas Cheer by caroling. They will go back to Hope Ministries on December 20 to distribute Christmas meals and toys to families in need. From hanging the greens in the church sanctuary to bringing Christmas cheer, the youth have spread the holly and jolly all around! The youth group will also be preparing for many exciting things in the Spring and Summer of 2012, including a mission and team-building trip the Heifer Ranch in central Arkansas, a mission trip to Noah's Ark in Florida, and will participate in many local mission projects.
If you would like to participate in some of the group's upcoming events, you may contact our Youth Director Melissa Enis at 261-4646. The youth group wishes for everyone to have a wonderfully blessed Christmas and New Year!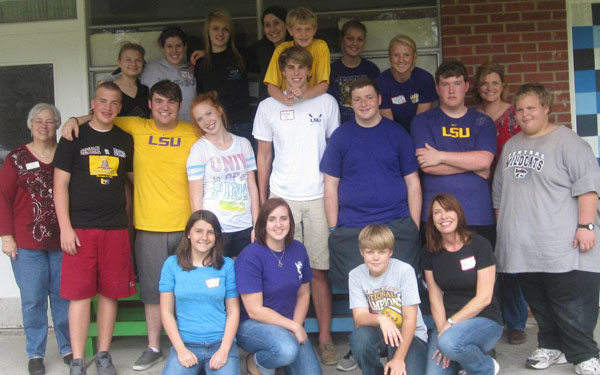 Above, group members from left to right starting at top row: Sarah Leduff, Amanda Davis, Lizzie Wicker, Angela Bliss, Emily Braun, Grance Delee, Rev. Marie Williams, Matt Evans, Austin Bagley, Katie Evans, Jake Braun, Matt Guiterrez, Jamie Evans, Cody Aucoin, Kylie Golden, Melissa Enis, Dylan Delee, Amy Evans.