Community
Memories of a 1950's Central Majorette
By
|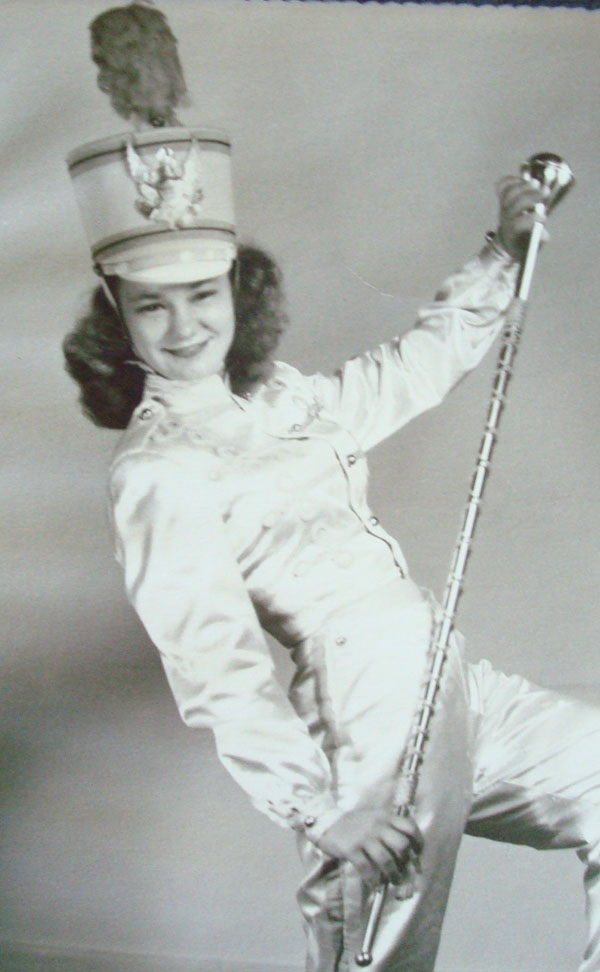 Shirley in her Central High School Marching Band Drum Majorette outfit in 1951, her senior year.
By Elva Jo Crawford
Shirley Sicard (Fleniken) came to Central from LaPlace in the 5th grade when her mother and two older brothers moved here to take care of her mother's brother (this uncle had severe health problems from serving in World War I). Their home was on Greenwell Springs Road near Joor, where Domino's Pizza is now. Greenwell Springs Road was graveled then.
Shirley's school bus driver was Mrs. Winnie Fleniken. Mrs. Winnie's bus route, sixty-six years ago, was VERY long, including Hooper Road, through Glen Oaks, down Airline Highway, and back up Greenwell Springs Road to Central. A fellow 5th grader was Shelton Fleniken, Mrs. Winnie's son. Shelton and Shirley became great friends. Years down the road, Shelton would be the man Shirley married.
Shirley says she has great memories of high school, growing up in Central and being in the band. She joined the band in Junior High and played the clarinet. Her husband-to-be Shelton also joined the band and played trumpet until Central got a football team, which he then joined. She remembers that there weren't as many parades back then as there are today. But somehow, the Central School band director at that time, George McLean, got Central's band a spot to march in one of the New Orleans Mardi Gras parades. Shirley says there were essentially no electric lights on the parade route, so there were men from the Mardi Gras parade marching alongside them in the parade carrying flaming torches so the band members could read their sheet music.
Until the early 1950's there was no cafeteria at Central School. All the students brought their own lunches. Some of the students, she recalls, were extremely poor and had very little in the way of food to bring to school. She remembers often sharing sandwiches with students in this situation.
Years ago, the general lifestyle was very different, too, she says. Girls and ladies wore hats and gloves and dresses to church – no slacks or jeans. Even at school all the girls had to wear skirts or dresses to class. She says Mr. J.A. Smith, the principal at them time, let the majorettes and cheerleaders wear jeans to school on Fridays only during football season so they could decorate for the games. It was not until the 1970-71 school year that girls could wear slacks or jeans to classes on a regular basis.
Another difference sixty plus years ago was that there were no school dances allowed at Central. For school celebrations the students had banquets, which she says were really wonderful and great times. All of these special occasions were celebrated in the wood frame gym (now the girls' gym at Central Middle).
Today, Shirley and her husband Shelton are retired and live in Central not far from Shelton's boyhood home. They have two grown sons, three grandchildren, and four great-grandchildren. They are active in ministry at Zoar Baptist Church. Shelton also has a wonderful chicken farm that keeps lots of folks supplied with eggs.
Shirley has a great piece of advice to all the kids in school right now. "Enjoy yourselves to the fullest! You will look back on these times as the most wonderful in your life!"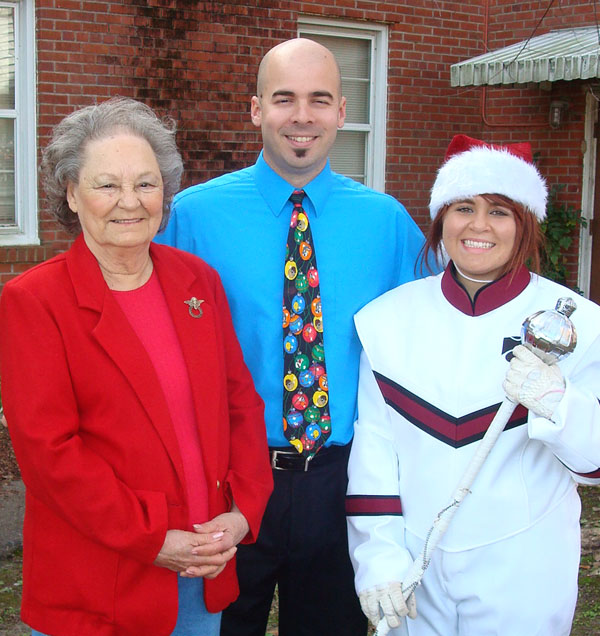 Shirley Sicard Fleniken pictured with current CHS band director Patrick Bordelon and current CHS Drum Majorette Vivian Ryder