Community
Gary Allyn – Making Christmas Dreams Come True
By
|
Gary repairs prongs on a beautiful engagement ring featuring a blue diamond.
By Mia Freneaux
Deciding whether to call Gary Allyn an "artist" or a "craftsman" is a hard decision. Gary, with over 38 years of experience, is a Master Jeweler whose original designs have been delighting his customers for many years. The Craftsman in him is revealed by his painstaking work at his bench – whether carefully hand filling the gold in a ring he is resizing, or meticulously pave setting diamonds in a hand-crafted ring. The Artist is revealed in the skillfully designed pieces he creates for his clients.
When Gary meets with a client, he takes the time to sit down with them and get their input on their individualized, unique design. Whether designing engagement rings, pendants, or earrings, he first finds out what shape and kind of gemstones are desired. When creating an original ring design, he finds out what shape the center stone will be. He then discusses the style of the ring, the quality of the gemstones, and how many will be needed. Once that is determined, the finger size is taken and the process begins for a computer generated CAD image. All the computer data is then transferred to a computerized CAD cut-out machine, which makes a wax model of his design. The wax model is now ready for the casting process, which consists of 5 steps. The ring model is placed inside a cylinder, and a special, super smooth plaster is poured over it. When the plaster hardens, the cylinder is heated and the wax melts away. At this point, molten gold or other precious metal is poured into the plaster cast. This is a very meticulous job, involving careful calculations on how much metal is needed. Too little, and the cast is ruined. The newly cast ring is then polished and set with gems. Gary works with all precious metals, with platinum a personal favorite. He says Rose Gold is very popular now.
Gary has worked for several jewelry firms, including Wilson's, Jules Madere's, Patton's and Lee Michael's, where he was their main jeweler. He is Certified in Advanced Stone Setting by the Gemological Institute of America (GIA). All of this training guarantees that his clientele receive the best service and the most skilled workmanship. "You have to have experience in this trade, you don't learn this overnight, that's for sure!" Gary says with conviction.
Gary's fully equipped workshop enables him to not only create new, original pieces but also do "Extreme Fabrication", which is taking old jewelry and giving the stones and metal a new life as a new creation. He also does repair work in-house, there is never the danger of losing your valued item. He repairs and replaces batteries in watches, does antique restoration, and buys gold as well.
Gary, a Central resident for 29 years, says his business focuses on customer satisfaction and service. "One satisfied customer will tell 10 people, one unsatisfied customer will tell 50! I prefer they be very satisfied," he says with a grin. Customer satisfaction includes working within his clients' budgets. "There are amazing, less expensive stones on the market now, such as Moissanite, which is a stone originally found only in meteorites. It looks like a diamond, but has a greater light refraction index, and is much more affordable!" He carries a selection of silver jewelry and fresh water pearls. He can have a piece overnighted to his store for those last minute shoppers, but an original design typically takes 2 to 2 ½ weeks from design to finish. There is still time before Christmas to order that piece that is sure to delight the special someone in your life! "This is what it's all about," Gary affirms, "Watching my customers gaze upon their finished creation that they have chosen."
Gary would like to invite everyone to his Ribbon Cutting Ceremony TODAY, December 8th from 10-12. Refreshments and door prizes! Gary Allyn Jeweler, 18564 Magnolia Bridge Road, 615-7732. Holiday hours Monday – Saturday 10-8.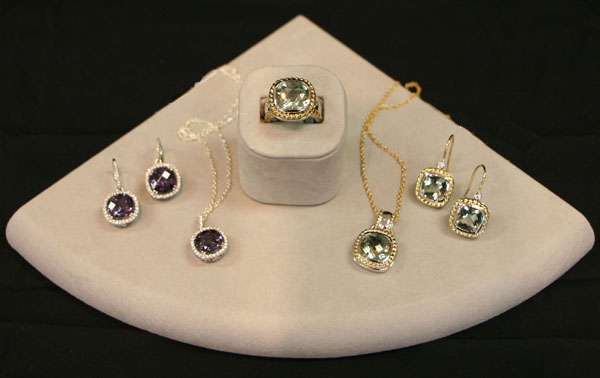 These amethyst and peridot pieces can be found at Gary Allyn Jeweler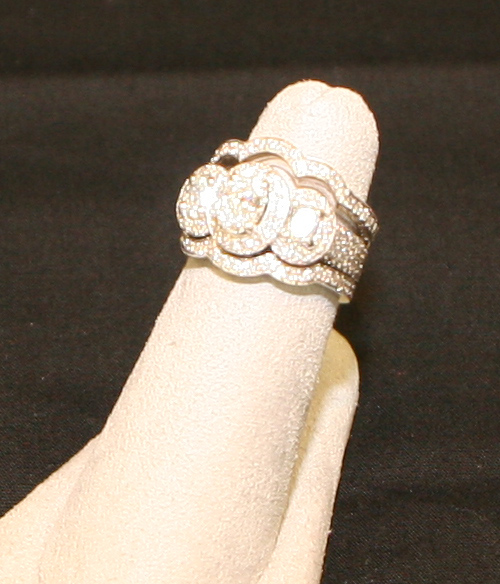 Gary's original design for his wife's ring features a center stone cut in the 8 sided "Asscher" style and pave diamonds.