Community
An Unexpected Gift
By
|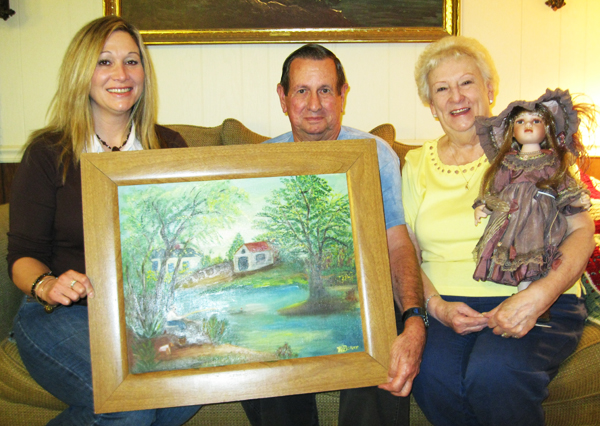 By Terri Nickens Caro
In the fall of 2008 my husband and I moved to Central. The first day here we met Mr. Gene and Mrs. Violet Bruce, our closest next door neighbors. After we were settled in Mrs. Violet invited me over for coffee. We talked about many things; the weather, our flowers, NASCAR, (Mrs. Violet never misses a race) and her beautiful dolls. She has so many!
As I was admiring her collection,my eyes were drawn to a small painting on her wall. In total shock and disbelief I read the artists' name at the bottom…Tears filled my eyes. It belonged to my great grandmother, Maude Baker. "Mammie", as all her grandchildren called her was born in the late 1800's. She lived in North Louisiana, married at 26, and had 8 children. She began painting late in life and did so until the golden age of 97. Through the years Mammie won many prestigious awards for her work, and at one time was the oldest living member of "The Louisiana Artist's Guild. She passed away in 1981. So how in the world did this little painting end up here?
After a moment of stunned silence, Mrs. Violet began to explain. As it turned out that painting had hung on her wall for over 40 years! It was a gift, she said, given to Mrs. Joan Bruce (Mr. Gene's Mother) by a friend from church, Mrs. Corneila Card. Tears filled my eyes again…..Cornelia Baker Card was my great aunt. Aunt Cornelia was originally from Alexandria, but she and her family were living in the Glen Oaks area in the late 1960's. What a small, small world!
The next day the doorbell rang. There to my great surprise and joy was Mr. Gene holding the painting. He explained that Mrs. Violet wanted me to have it. Such thoughtful kindness from wonderful new friends! Such a precious unexpected gift!
I guess some things are just meant to be…..It's so good to be home!