Business
DeAngelo's Brings Italy to Central
By
|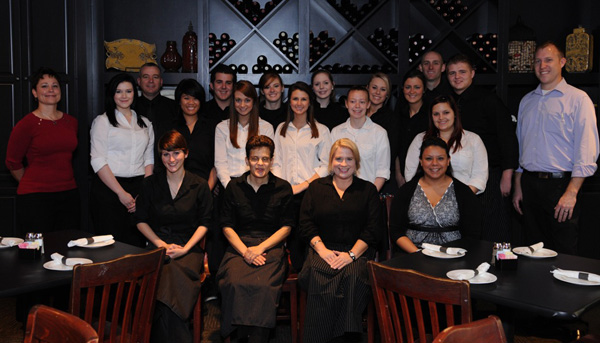 By Mia Freneaux
Photos by Eric Frank Photography
Ah Italy – land of sparkling wine, classic opera, passionate romance and – FOOD! The new Louis De Angelo's has opened in Central, and it's delicious. From the soothing Tuscan tones on the walls, to the dark woods, to the enticing odors wafting from the kitchen, all the senses are engaged. On each of our visits, our attentive wait staff made sure our glasses were never empty and all our needs were filled.
We sampled several appetizers. The Fried Shrimp were tender and flavorful, the honey mustard dip nicely zesty. The Capri Focaccia bread was a mouth- watering blend of capers, tomatoes, fresh basil and mozzarella. Entrees favored at lunch were the Venetian Calzone, a "fantastic" (I quote the diner) blend of shrimp, artichoke hearts, Portobello mushrooms, and Roma tomatoes; the Florio Calzone, a spicy combination of pepperoni, Italian sausage, Black Forest ham, and Asiago cheese; and the Uncle Louie Burger topped with carmelized onions – juicy and delicious.
Supper entrees included traditional spaghetti and meatballs in a sauce that pleased the diner because it "wasn't too sweet". Eggplant Parmesan completely satisfied the eggplant lover among us with its delicate flavors and huge portion. The Chicken Parmesan was "fork tender, the angel hair pasta was perfectly al dente, and it had great flavor". The "Mona Lisa" (a house specialty) combines shrimp with an amazing amount of sweet lump crabmeat in a cream sauce over angel hair. Salads were obviously the freshest produce. A substantial wine list makes a nice accompaniment. Have we tantalized you enough?
Louis De Angelo, who has partnered with Central residents Mike Breaux and Charles Kinsley to bring "a comfortable, homey, unassuming place whether you're eating pizza or a pasta dish with lump crabmeat" here, noted that when he first moved to this area 20 years ago his Uncle Bobby, a Central resident, let him live with them until he found a place of his own. Louis feels he's come full circle with the opening of the Central restaurant. As he put it, "We've had 20 years of good fortune; we've been blessed by the community. It's the culmination of all things DeAngelo."