Arts/Fun
Central Community Theatre Accepted to National Junior Theater Festival
By
|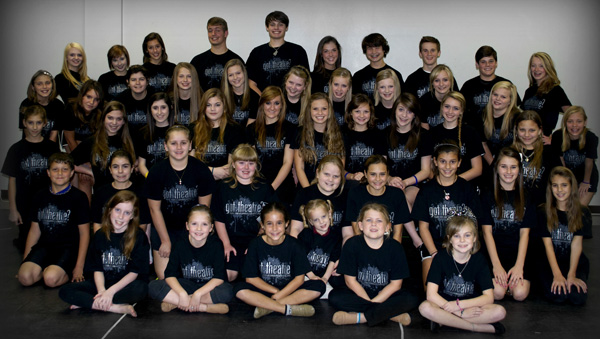 Central Community Theatre in Greenwell Springs has been accepted to the invitation-only national Junior Theater Festival, happening January 13, 14 and 15 at the Cobb Galleria Centre in Atlanta, GA.
The Junior Theater Festival is the world's largest musical theatre festival dedicated to groups working with elementary and middle school students and is presented by New York's iTheatrics and Atlanta's Theater of the Stars and sponsored by Music Theatre International and Disney Musicals. The festival will bring together more than 3,000 students, teachers, and Broadway professionals to raise their voices in celebration of on-stage and backstage excellence in musical theatre.
Each group attending the Junior Theater Festival performs a 15-minute selection of a musical for a panel of distinguished theatre professionals. The panel evaluates each group's music, acting, dance, and overall performance. Each cast receives feedback about its creativity, engagement in the performance, understanding of the material and connection to the lyrics and movement. The most joyful and student-driven performances are celebrated with awards, and a select few groups are invited to perform during the closing awards ceremony for their peers.
Central Community Theatre
The 48 young performers representing Central Community Theatre (CCT) will present songs from Disney's Beauty and the Beast JR. for adjudication at the festival. The group will perform the full-length version of the musical for their community on March 15 and 16, 2012 at the Manship Theatre (100 Lafayette St., Baton Rouge, LA). Tickets are $15-$25.
This production is special for the cast, not because they are performing it for festival judges but because they have dedicated it to the memory of Phillip Abington, a CCT student who was killed in a tragic accident this past September. Abington was a beloved, valued member of the Central Community Theatre family, and his sudden loss continues to be devastating. The students have worked tirelessly to make this production the best they can in tribute to his memory.
That sense of family and camaraderie is not unusual for CCT. The students support each other and spend time helping each other out. For example, when CCT's Junior Elite class presented Madeline's Christmas in December, the Disney's Beauty and the Beast JR. cast volunteered their time to help out their younger comrades. They came to rehearsals, worked backstage, and encouraged the younger members of the CCT family to put their all into their performances.
CCT students have attended the Junior Theater Festival in past years, to much success. At the 2010 Junior Theater Festival, CCT presented selections from Annie JR. and Disney's High School Musical JR. At the 2011 festival students Addie Dean and Alex Burns took home a Freddie G Outstanding Student Direction and Choreography award, respectively. And CCT's Junior Elite Group received a Freddie G Outstanding Achievement in Dance ensemble award for their presentation of Disney's Alice in Wonderland JR. Furthermore, four CCT students were selected to perform in instructional DVDs for Music Theatre International. Chaislyn King, Zachary Lejeune, Ashton Denham, and Parker Wilson were among 25 students from across the nation chosen to fly to New York to record instructional choreography DVDs for soon-to-be-released Music Theatre International titles Doctor Doolittle JR., Finian's Rainbow JR., Disney's Winnie the Pooh KIDS and Disney's The Little Mermaid JR.
About Disney's Beauty and the Beast JR.
Disney's Beauty and the Beast JR. features music by Alan Menken, lyrics by Howard Ashman and Tim Rice and a book by Linda Woolverton. In the musical the brainy and beautiful Belle yearns to escape her provincial life…and her brute of a suitor, Gaston. However, Belle gets more adventure than she wanted when she becomes a captive in a Beast's enchanted castle. Dancing flatware, menacing wolves, and singing furniture fill the stage with thrills in this beloved fairy tale about very different people finding strength in one another and learning how to love.
About The Junior Theater Festival
Featuring 64 groups in 19 states, the 2012 Junior Theater Festival offers an enthusiastic environment for students and teachers to interact with thousands of others who share their passion for musical theater. In addition to presenting a 15 minute selection from their musical, both students and teachers participate in interactive workshops led by Broadway and West End professionals, gain from professional development, enjoy theatrical fellowship and attend a world-class professional production of Annie at the fabulous Fox Theatre. In true Junior Theater Festival form, student techies work side-by-side with festival staff in running all aspects of the festival experience.
While the festival isn't about creating the stars of tomorrow, many of the stars of today play a role. Past festival attendees have included Zac Efron; Stephen Schwartz; four-time Tony nominated composer Jeanine Tesori (Thoroughly Modern Millie, Shrek the Musical); Disney Theatrical Group President Thomas Schumacher; Grammy award-winning musician, producer and songwriter Bryan-Michael Cox; Broadway actors Henry Hodges (Mary Poppins), Jenn Colella (High Fidelity, Urban Cowboy), Jenifer Foote (A Chorus Line, Dirty Rotten Scoundrels), Christy Carlson Romano (Kim Possible, Disney's Beauty and the Beast, Avenue Q); American Idol's musical director Michael Orland and Playbill columnist and Talkin' Broadway radio host Seth Rudetsky.
Beginning in 2010, the festival has paid tribute to the leadership and dedication of Music Theatre International (MTI) Chairman Freddie Gershon by renaming its student awards for excellence in theatre "The Freddie G's." In 1995, Gershon created Broadway JR., the first educational division in a major musical theatre licensing firm, which over the past 15 years has literally transformed the marketplace for age-appropriate performance material for young performers.
The Broadway Junior scouts will be on the lookout for outstanding students who will be invited to audition for iTheatrics Resident Choreographer Steven G. Kennedy for future Broadway Junior shoots for "how-to" choreography videos forXanadu JR., Fiddler on the Roof JR., Hairspray JR., Singing in the Rain JR., and Magic Treehouse I, Magic Treehouse II and Magic Treehouse JR. This past summer, 25 students selected from the 2011 Junior Theater Festival worked with Kennedy to film "how-to" choreography DVDs for the soon-to-be-released Music Theatre International titles Doctor Dolittle JR., Finian's Rainbow JR., Disney's Winnie the Pooh KIDS and Disney's The Little Mermaid JR. in New York City. These videos will be used in thousands of schools across the country.
Eight exceptional educators from schools and performing arts centers around the country will be selected for the 3rdannual "Broadway Welcomes America's Teachers at the Freddie G Theatre Experience," in which the educators will receive an all-expenses paid trip to New York City to work one-on-one with Broadway greats. The event is sponsored by MTI's Freddie ("G") Gershon and his wife Myrna Gershon and is a thank you for all that teachers do to introduce the next generation to Broadway and musical theatre.
The first Junior Theater Festival was held in January of 2003. Starting in 2010, the festival became an annual event.
PRESENTING SPONSOR: Music Theatre International (MTI), www.mtishows.com, is the leading theatrical licensing agency in the world, representing the performance rights to over 350 musicals. MTI is particularly dedicated to the idea of theatre as education and has created special collections for younger audiences including The Broadway Junior Collection®, which features 70-minute adaptations of major musicals designed for middle school children to perform, and the MTI KIDS Collection®, which provides 30-minute musicals for performance by elementary school children. MTI recently launched MTI ShowSpace, www.mtishowspace.com – a free online community giving thespians and fans a space to connect with anyone and everyone involved in the theatrical process.
FESTIVAL CO-HOST and CO-PRODUCER: One of the oldest regional theaters in America, Atlanta's Theater of the Stars (TOTS) has produced and presented more than 750 productions in Atlanta, across the country and around the world. Founded in 1953, TOTS mounts lavish productions of new and classic musicals at affordable prices with the goal of expanding traditional audiences, enhancing the availability of quality family entertainment, and exposing new audiences to the magic of live theater. TOTS is an active participant in the national theater community and is a founding member of the National Alliance for Musical Theater, the Independent Presenters Network and the Broadway League. In 2009, TOTS celebrated the 50th year of leadership from its producer, Chris Manos.
FESTIVAL CO-HOST and CO-PRODUCER: iTheatrics uses the transformative power of the arts to make the world a better place. The company adapts existing Broadway and West End musicals for students at all age levels—including elementary, middle, and high school—to perform. iTheatrics also creates a teacher's tool chest of resources which provides educators with enhancements such as choreography DVDs, accompaniment CDs, director's guides and curriculum connections. iTheatrics' clients include Music Theatre International, Disney Theatrical Group and McMillan/McGraw-Hill. iTheatrics also develops new musicals for family audiences such as The Musical Adventures of Flat Stanley, The Phantom Tollbooth and Roald Dahl's James and the Giant Peach. iTheatrics' Junior Teaching Intensives provide professional development for teachers in the area of musical theater and its Junior TheaterAcademy provides young artists with an innovative outlet for developing their skills as performers and artists.