Announcements
Local Student Graduates Summa Cum Laude from LSU
By
|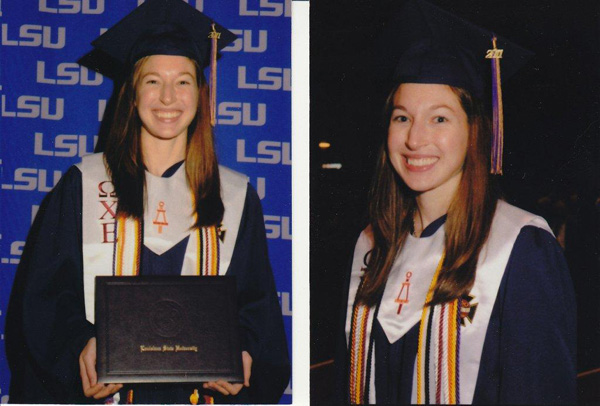 Rachelle Kusch received a bachelor's degree in Chemical Engineering from Louisiana State University in December 2011. She graduated summa cum laude and received numerous honors including being a member of Tau Beta Pi (Engineering Honor Society), Omega Chi Epsilon (Chemical Engineering Honor Society), and Gamma Beta Phi (Academic Honor Society). On campus, she was a member and secretary for both the American Institute of Chemical Engineers and Gamma Beta Phi. Between semesters at LSU, Rachelle completed three engineering internships with Albemarle Corporation and TOTAL Petrochemicals. She was selected among numerous interns at TOTAL Petrochemicals to represent US Chemicals at the TOTAL Summer School for a week in Paris, France. She learned about the company while meeting top executives and other students from around the world.
Rachelle finished elementary and middle school from St. Alphonsus Catholic School and graduated high school from St. Joseph's Academy. While attaining her degree at LSU, she remained an active parishioner at St. Alphonsus as she was a member of the Liturgy Committee, a Eucharistic Minister and Lector at Mass, and a trainer for Altar Servers. Rachelle also became an active student at the LSU Catholic Church, Christ the King, on campus. She served as a member of the Faith, Peace, and Justice Committee, a Eucharistic Minister, and a Lector. She will begin working at ExxonMobil in Baton Rouge as a Product Development Engineer.
Rachelle is the daughter of Deacon Robert and Carla Kusch of Central.