Arts/Fun
Central Community Theater Takes Top Award at National Festival
By
|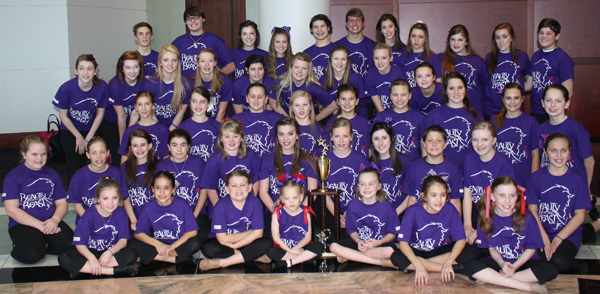 Photo submitted by Karen Clinkingbeard The Central Community Theater took home top honors from their recent trip to the Jr Theater Festival in Atlanta, Georgia. The group was awarded the honor after an impressive performance of a shortened "Beauty and the Beast Jr." The full story can be found below. Congratulations!
By Mia Freneaux
The 47 member troupe of Central Community Theater travelled to Atlanta this past weekend for the annual JR Theater Festival. Put on by Music Theater International and ITheatrics, this prestigious event accepts groups by audition only. CCT has been asked to attend for the past 3 years, an honor in itself. JR Theater Festival is for thespians from elementary through high school, and is not just a competition judged by top actors, directors, and choreographers, it is a learning experience where the same judges hold workshops on many subjects. This year's judges included Charles Strauss, writer of Broadway's Annie, Newsies director Jeff Calhoun, Mary Pope Osbourne (author of the "Magic Treehouse" series), and the new NBC show "Smash"'s Kathryn McFee. "It's not so much about competition as it is teamwork," said director Karen Clinkingbeard, "We prepared a 15 minute segment of the Broadway JR musical 'Beauty and the Beast', which is also our Spring Musical. We will be performing 'Beauty and the Beast' (the full version) at the Manship Theater on March 15 and 16."
The groups are divided into 7 "pods" to perform their piece before judges, who then select the top act of each pod to perform on the closing night before an audience of 3000. Out of 65 groups from 19 different states, only 7 are selected, with no props or costumes allowed. Between performances, students participated in tech rehearsal, voice, acting, and dance workshops, with CCT participating in all advanced categories. 3 CCT students were selected, based on their performance, to participate in a special performance on stage: Landon Smith, Sadie Fontenot, and Annie Dauzat. Judges not only select the top 7 groups, they also choose "All-Stars", who get to go to New York City to perform for the sample DVD's for ITheater's new releases. 9 children were chosen to audition: Ava Denham, Megan Sullivan, Nicole Gordana, Sadie Fontenot, Shelby Lambert, Breanna Clark, Carolyn Waller, Lindsey Hooge, and Joey Carroll. After a several hour long audition, Joey Carroll was chosen for call backs, and will find out if he's going to NYC in the spring. CHS graduate Claire Clinkingbeard was commended for her editing in cutting the 1 hour "Beauty and the Beast JR" production to 15 minutes by Ken Caniglia, the author of the original script! CHS graduate Addie Dean created all the original choreography,
Then came the magic moment: announcing the 7 top troupes. 2 other Louisiana groups were named. Then screams and hugs of joy accompanied the announcement: Central Community Theater, from a town not even on a map, had won "Outstanding Production" and the right to perform before the live audience. To a standing ovation, they performed "Be Our Guest". "We had dedicated our performance to Phillip Abingdon, one of our CCT family, and we feel that gave us an extra edge in our performance. The kids performed it practically perfectly," Karen said with pride. "It was the most positive experience we've had in all the years we've attended."
Congratulations on a wonderful culmination of months' worth of effort! To see CCT's award winning performance, go to Facebook and search for Karen Dean Clinkingbeard. The video is on her page. Thanks to CIS teacher Christine Rittell, who was musical director.