Health
Healthy Recipe: Grab and Go Peanut Butter Bars
By
|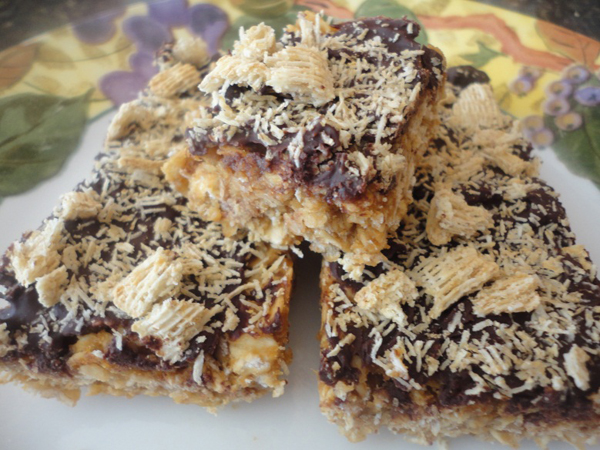 With the busy schedules of Central families, it can become very difficult to find healthy, affordable and enjoyable meal options.
Not anymore. These bars are free of refined sugars and contain only healthy fats. They are also a great source of both soluble and insoluble fiber, which have been shown to promote digestive health and even lower cholesterol. Another advantage? Since these are made with common ingredients, they won't break the bank. Plus, they are so easy to make, and so wonderful to eat.
1 cup Old Fashioned Oats
2 tbsp chopped dark chocolate
(Choose 70% or more cocoa, which has been
shown to promote cardiovascular health)
1/4 cup Natural Peanut Butter
1/4 cup unsweetened applesauce
1 tbsp Molasses
1/8 cup Original Post Shredded Wheat
In a small pot, add peanut butter, applesauce and molasses on medium heat until it slightly simmers. Be sure to stir in order to prevent burning! Turn off the heat, toss in the oats and mix well. With a spatula, flatten the oat mixture in the bottom of an 8" x 4" loaf pan. In a small bowl, or coffee mug, microwave 2 Tbsp chopped dark chocolate for 30 second intervals until melted. With a spoon, spread the chocolate on top of the flattened oat mixture and crumble the 1/8 cup post shredded wheat right on top. Place in the refrigerator for at least an hour. Once solid, remove and cut into 4 bars. These may stay refrigerated for up to one week.
Enjoy as a post-workout snack, a quick breakfast with a piece of fruit or as an easy lunch with a few handy vegetables, like carrots or celery. These bars are even sweet enough to be cut into smaller pieces for a light weeknight dessert option! Enjoy!
-Rachel
*Disclaimer: I am not a licensed physician or Registered Dietitian. The content of these recipes are not to be construed as medical advice or nutritional counseling. Please consult a Registered