Business
B&K Bank – A Long History of Service to its Customers
By
|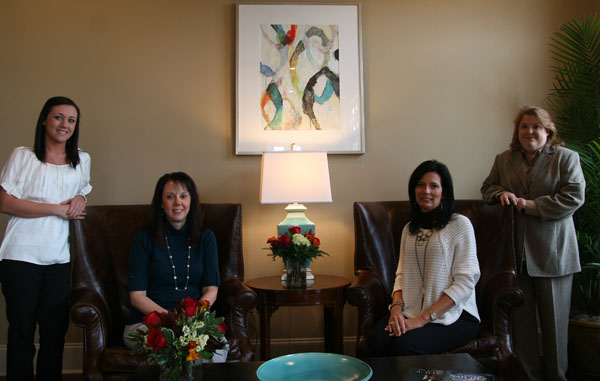 Left to right: Courtney Slagle, receptionist, Ritha Milton, Loan Officer, Dee Donaldson, Sr. Vice President, Mortgage Division Manager, Cathy Talley, Loan Processor
Paid Business Spotlight by Mia Freneaux
Britton and Koontz Bank (B&K) was founded in 1836 by William and Audley Britton and George Koontz in Natchez, MS, and is one of the oldest financial institutions in the country. It's also one of the few institutions to retain the name of its original founders. B&K's prudent policy has carried it through history from 1836 into the 21st century with 8 branches down the Mississippi River corridor from Vicksburg to Baton Rouge. B&K Bank has grown even in the midst of this recession, recently opening its newest Loan Production Office in Central. Having just moved from its previous location on Greenwell Springs Road, B&K is now open in the newly-built Magnolia Square Office complex.
Ritha Milton, B&K's mortgage originator, is overseeing the Mortgage Loan Production Office in Central. Ritha has over 30 years of experience in the mortgage field, and joined the B&K team in 2010. A 30 year resident of Central, Ritha is enjoying working close to home. She is proud of B&K's service record. "B&K has no intention of changing the way we've done business all these years: concentrating on our customers. When you call us, you get real people on the phone!" B&K focusses on the customer's convenience and preferences. Full service banking is offered at B&K's two locations on Bluebonnet Blvd and in Towne Center, while the new office at Magnolia Square is focused the mortgage needs of the Central area. Ritha makes it her mission to help guide her customers through the maze that is house purchasing. "It's one of the most stressful times, a big interruption in someone's life. I make sure that the stress level is diminished as much as possible." B&K processes all loan applications at the Bluebonnet Oaks location, unlike larger entities, which send everything to a central processing center. "This enables us to process loans quickly and efficiently," Ritha says. "We do what it takes to make it happen."
B&K avoided the recent mortgage crisis because they "didn't overextend themselves," Ritha affirms. "We avoided the pitfalls other banks experienced. We pride ourselves in prudent underwriting." She also emphasizes that there is no better time to buy a home than now. Unlike what the national media is reporting, Ritha says, "You don't have to have an 800 credit score and 20% down payment. There are other options, and B&K is lending! There are good programs out there for first time homeowners. Interest rates are so low and there's never been a better time to buy!" Ritha mentioned the Rural Development Financing available through the USDA. "Most of Central is eligible for this wonderful program."
B&K has Baton Rouge locations at 8810 Bluebonnet Blvd., 4703 Bluebonnet in the Oaks at Bluebonnet Park, 7415 Corporate Blvd. in Towne Center behind BoneFish Grill, and their newest mortgage-focused Loan Production Office at 13440 Magnolia Square Drive, Ste A.in Central. Phone 761-2546 Monday through Friday 9 to 5.