Sports
Central High Bowlers and LSU Players Take it to the Lanes
By
|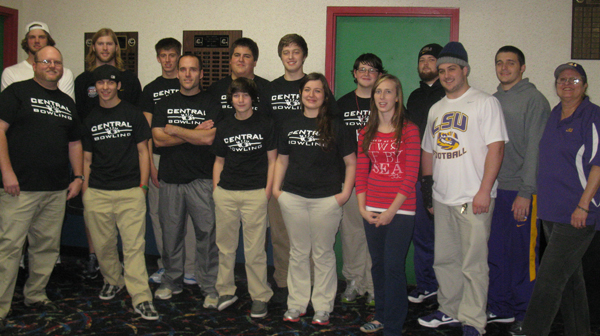 Submitted by Coach Godley
Central High Varsity Bowling got huge surprise this past Friday (2-10-12) from their bowling coaches, Mike Gardner and Phil Godley, when the team showed up to bowl a scrimmage and discovered the opposing team would consist of starting quarterback Zach Mettenberger and four other LSU Football players!
Once they recovered from the initial shock, the Wildcats were more than ready to roll with the big boys of LSU. Unfortunately, one Tiger wasn't able to join his fellow LSU teammates due to an illness, but a quick substitution by Mettenberger almost tipped the match in LSU Football's favor. He recruited Louisiana Youth Female Bowler of the Year and High School All American, Kay Rawls, who currently is a leading member of the Louisiana Tech University Women's Bowling team. Rawls is also a former Central Wildcat Bowling Team Captain. The other Tigers on hand to bowl were Branch Kampe (LB), Gabriel Langlois (OL), Connor Neighbors (FB) and Luke Muncie (LB).
In Game 1, Mettenberger and Rawls would be the only two bowlers to score points against the Wildcats. Central took control of the match with a 6-2 start and 923 to 741 in total pins. Rawls would lead Team LSU with a 189 game and Mettenberger was right behind her with a 154. Central High responded with Kevin Kennedy (Sophomore) leading with a 170, Alex David (Junior) with a 161. Lindsey Giacone (Senior) rolled a 148. Game 2 was a different story though. With their competitive juices flowing, Team LSU came out on fire and steam rolled Central 7-1 and 962 to 726 in total pins. Rawls was once again the high scorer on Team LSU with a 242. Mettenberger rolled a 189, Muncie chipped in with a 163, and bowling with his left hand (due to breaking his right hand two weeks ago) Neighbors rolled his highest game of the day with a 123. Central's high game came from David, 150. Going into the final game, LSU Football was leading Central 9-7 and 1703 to 1649 in total pins.
Central High got back to business and quickly took care of the match. The Wildcats hemmed up the match with a season high game series of 958 to LSU Football's 856 and won 5 of the 8 game points in Game 3. The Wildcats were led by Team Captain Bryan Waites (Junior) with a 236 (which included six strikes in-a-row), Jacob Garretson (Freshman) with a 190, Kennedy rolling a 156, and Sean Murphy (Sophomore) with a 147. Rawls proved to be a great substitution because she would once again show the LSU boys how to bowl rolling a 217. Kampe followed with a 155. Once it was all said and done, Central High came out victorious 15-12 and 2607 to 2559 in total pins. The Wildcats were led by Waites with a 529 (236 game) and Garretson had a 476 (190 game). Also noteworthy was Kennedy's 450 (170 game) and David's 444 (161 game). Rawls, bowling for Team LSU, topped everyone with a 648 series (242 game) and Mettenberger was second high on Team LSU with a 481 series (189 game).
Central Coaches Godley and Gardner would like to thank the LSU Tigers for taking the time to scrimmage against Central High. It will be a day that Central High's bowlers, coaches, parents, and fans will remember forever – THE DAY CENTRAL HIGH BEAT LSU!