Health
Healthy Recipe: Fajitas with Homemade Whole Wheat Tortillas
By
|
By Rachel Firmin
This Lent, my fiancé and I fasted from meat, cheese and sweets. That means that the Monday after Easter I was at the grocery store gathering all the ingredients we would need to indulge in a Mexican feast! Although everything was delicious, the tortillas were definitely the highlight of the meal. These homemade tortillas are 100% whole wheat, low salt and contain only 5 ingredients. Plus, they're so easy to make that it just doesn't make sense to waste money and buy them at the store!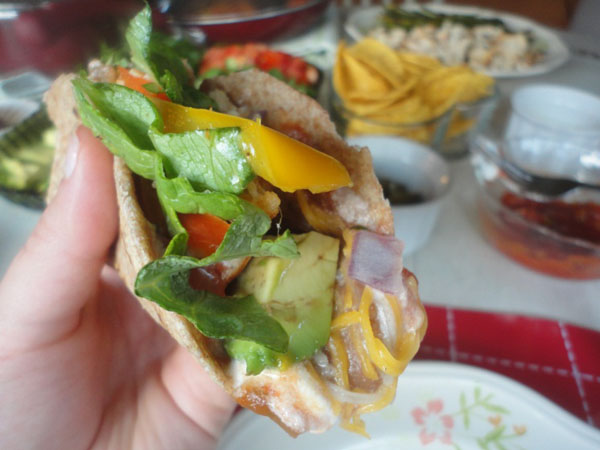 For the Tortillas:
– 2 cups whole wheat flour
– 2 Tbsp. Olive Oil
– 1 tsp. Baking Powder
– ½ tsp. salt
– ½ cup + 2 Tbsp. warm water
In a medium sized mixing bowl, combine whole wheat flour, olive oil, baking soda & salt. Mix well. Add warm water 2 Tbsp. at a time until dough forms a ball. Knead on floured surface 15-20 times until dough is formed together in neat ball with no loose flour. Cover with a towel and let rest 15 minutes. After letting the dough rest, cut the dough into 10 pieces and roll each piece in the shape of a small ball. Roll out with rolling pin until a circle is formed with a 6 inch diameter. Grill on an ungreased skillet on medium-high heat until crisp and bubbly (about 30 seconds per side). To keep warm until serving, wrap tortillas in wax paper and then aluminum foil. To reheat, simply stick foil package in a warm oven for about 3 minutes.
For a full meal, prepare 1 large chicken breast for every 2 people and shred finely. For Fajita fillings, sauté a few bell peppers, chop up some lettuce, onions, cilantro and avocados, if desired. Top with salsa, refried beans and nonfat Greek yogurt in place of sour cream for a filling, made at home Mexican meal.