Community
Louisiana National Guard Honors Central Resident
By
|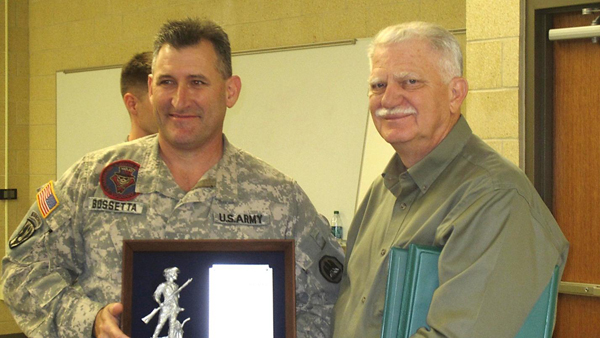 Col. Patrick Bossetta, commander of the Louisiana State Aviation Command, presents the Minuteman Plaque to CW5R Michael Chapman
Chief Warrant Officer Five Michael Chapman of Central said farewell to the Louisiana National Guard and over four decades of military service during a retirement ceremony at the Louisiana Air National Guard facility located at the Hammond Municipal Airport on Saturday, June 9, 2012.
At the ceremony, Mr. Chapman was awarded the Legion of Merit, the Air Medal – First Oak Leaf Cluster, the Certificate of Retirement from Armed Forces, the Certificate of Appreciation from the president of the United States, and the Minuteman Plaque.
The Legion of Merit, the Nation's fifth highest military decoration, was awarded to Mr. Chapman for exceptional meritorious service while serving in various positions of increasing responsibility throughout a distinguished career spanning four decades. Mr. Chapman served his county with great honor, valor, and distinction in multiple tours of combat operations from the jungles of Vietnam to the desert sands of Kuwait and Iraq.
The Air Medal was awarded to Mr. Chapman for exceptional meritorious service to the United States as a UH-60 Pilot, Alpha Company, 1-244th Assault Helicopter Battalion, Multi-National Corps-Iraq, Baghdad, Iraq, from 2 July 2008 to 3 April 2009, during Operation Iraqi Freedom. During this time Chapman's duties included Aviation Liaison Officer to the Corps, Pilot in Command, and Company Aviation Safety Officer.
Mr. Chapman has two previous Air Medals. The first awarded in 1970 with "V" device for heroism while supporting Korean Special Forces in Vietnam and the second awarded in 2005 as a UH-60A pilot assigned to TF 185th AVN during Operation Iraqi Freedom II.
Mr. Chapman's military career began as a private in May 1969. He earned his wings and became a warrant officer one year later at Ft. Rucker, Alabama. He was assigned to the Gun Platoon of the 92nd Assault Helicopter Company based at Dong Ba Thin, Vietnam. He flew over 900 combat hours in Vietnam as well as over 700 combat hours supporting Operation Iraqi Freedom.
Mr. Chapman's wife, Linda Chapman, was also honored with a certificate of appreciation for her continued support and service while Mr. Chapman served, both at home and abroad.