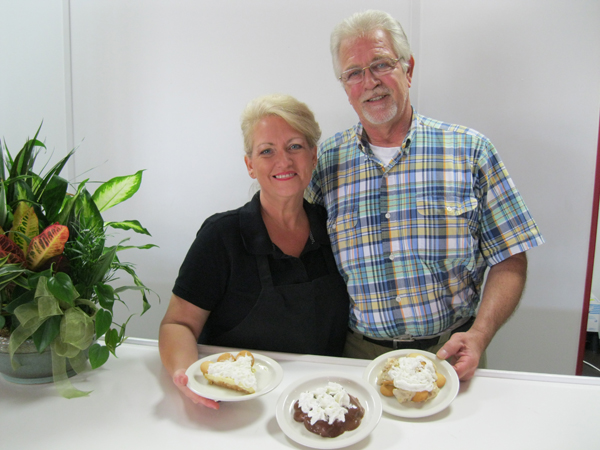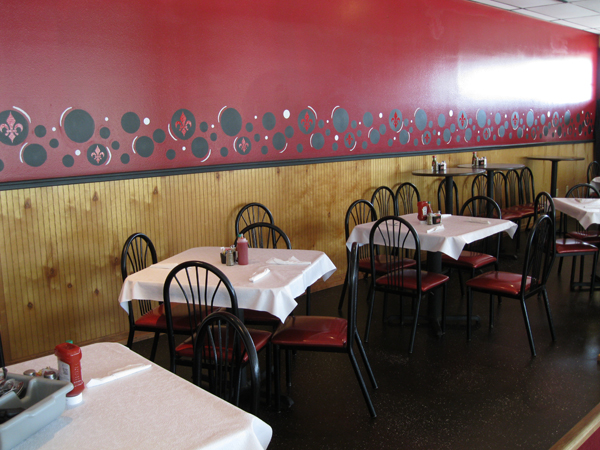 If you're looking for the melt-in-your mouth Southern cooking your grandmother put in front of you for Sunday dinners, head to Me'Pa's Diner. Combining recipes passed down to her by her grandmother and mother, Central resident Melissa Dykes serves her delicious dishes with the same warm family feeling you'll recall from Grandma's house. "We want people to feel welcomed, like they've become part of our extended family," Melissa shared with her warm smile.
The family emphasis goes beyond the recipes. Daughter Meggan Hoover is the manager, and daughter Jamie Torres and son Christopher Dykes (both Central High grads with food service experience) have made huge contributions. Daughter GG has been a big support. Melissa herself worked in the restaurant food supply business for years. Her mother in law, Lorraine Dykes, "The Cake Lady", made wedding cakes here in Central for years. The menu depicts offerings named after mothers, grandmothers, aunts, children, and the kids menu is named after grandchildren!
Co-owner Tommy Dykes, Melissa's very supportive husband, did all the remodeling himself, creating a warm, welcoming atmosphere with cosy red walls and wood flooring. The Breakfast Counter, which seats 8, was created from a repurposed sneeze guard from an old buffet warming table! This sort of ingenuity, combined with a "can-do" attitude, has gotten Melissa and Tommy off to a great start in their third week of operation.
The kitchen is in the capable hands of experienced cook Casey Springer. "She's VERY good!" Melissa stated emphatically. Casey oversees the preparation of family recipes like made from scratch fried green tomatoes, onion rings, and daily specials. The specials, Monte Cristo sandwich, and fresh fried chicken fingers are the most popular.
In addition, Casey handles the breakfast menu, using fresh eggs to create omelets, and boudin and sausage made by a local concern located on Greenwell Springs Road (licensing laws won't let us print the name, but come on folks, we all know who I'm talking about!). Melissa and Casey arrive at 4:30 every morning to whip up their light as air home made biscuits. "My mother, Rose Hudson, taught me how to cook," Melissa explained. French toast and pancakes round off the list. Most popular breakfast items include Tommy's favorite, Papa T's Southern Scrambler Biscuit Platter – an open faced biscuit topped with 2 sausage patties furnished by our boudin shop, scrambled eggs, home fries, gravy, and cheese, served with grits. Better come hungry!
Daily Specials change each day, with Tuesday offering Steak and Gravy or Fried Pork Chops, Wednesday Chicken Fried Steak (Melissa's personal favorite) or Hamburger Steak and gravy or Liver and Onions, Thursday Spaghetti and Meatballs or Chicken and Dumplings, and Friday Baked Chicken or Fried Fish (items subject to change). All specials come with 2 sides and bread and (like every item on the menu) are VERY reasonably priced. And don't forget to check out their dessert menu, featuring rotating favorites like Lemon Ice Box Pie, Mississippi Mud Pie, and Banana Pudding – ALL homemade! First time diner Karen Barrow affirmed, "The food is good, the service is excellent and very friendly, it's a great Christian atmosphere and I'll definitely be back!"
Melissa and Tommy want their Community to know that they are here for the long term. Tommy, a Central resident for 45 years, and Melissa, whose mother and her 7 brothers and sisters graduated from Central High School, are dedicated to offering Central the best old fashioned cooking served in the most welcoming atmosphere. "We want our customers to come and make themselves at home. Wear your comfortable attire, bring the kids, and enjoy yourself!"
Me'Pa's Diner, 6642 Sullivan Road in LaCentrale Plaza. Tuesday – Friday 5:30-2:00 (breakfast served til 10:30), Saturday 7:00-2:00, Sunday Brunch 8:00-2:00. Takeout available Monday-Friday. 400-9912.