Business
Stab's Steak & Seafood Opens at Magnolia Square
By
|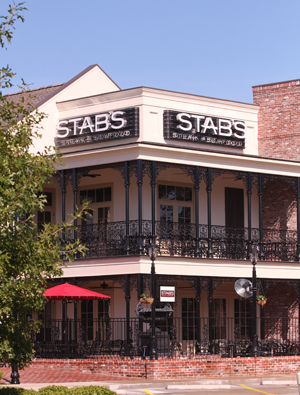 Kevin Kimball (pictured above), general manager of the newly opened Stab's Steak and Seafood Restaurant, is very enthusiastic about the opportunity presented by operating in Central. "We are so excited about being in a community like Central. We want to truly serve the community and provide a unique dining experience, and for this reason we are driven to be excellent," said Kevin. Referring to their cuisine, Kevin described it as "chef-driven", meaning that the Executive Chef selects the ingredients and creates the recipes. Executive Chef Justin McVea, who comes to Stab's from La Creole Restaurant, and Executive Sous Chef Patrick Brown, hailing from Louisiana Lagniappe, have crafted a menu that focusses on prime cuts of beef and Louisiana seafood prepared with a New Orleans vibe. "They deserve so much credit," stated Kevin, "they're fantastic!"
Featuring USDA Prime beef aged 21-27 days, Stab's offers a Cajun Rubbed New York Strip, prepared in the traditional way with a cast iron skillet. This method requires extra skill and care to prepare correctly, but the results are well worth it. In the seafood line, live Maine lobster is held in a tank until the customer selects it, sea bass is sauteed and served with vegetables, and the crab cakes contain a full quarter pound of lump crabmeat! A favorite of Kevin's, the Short Ribs are braised in red wine, then slow-roasted. "They're absolutely delicious," he enthused. The vegetable sides and salads feature produce from local farmer's markets, so are at their most fresh and flavorful. If you can manage after eating one of the entrees, the dessert menu showcases Bananas Foster, prepared in a cast iron skillet and flambeed with brandy, and genuine New York cheesecake, flown in from Carnegie Deli in the Big Apple itself. An extensive wine list, after dinner liqueurs, and cocktails are available to add the finishing touches, The lunch menu includes sandwiches such as the Smoked Chicken Salad Club, Stab's signature hand formed Burgers, and salads with dressings all made fresh in-house. Appetizers feature the popular Cajun Boudin Spring Rolls, served with ponzu sauce and made with Jerry Lee's famous boudin. One diner described these as a real taste experience.
Stab's creme colored walls, dark wood accents, sparkling chandelier and understated art add an elegant tailored touch to the diner's experience. "We are a white cloth restaurant, but we want our customers to enjoy that atmosphere comfortably," said Kevin. The outdoor balcony and courtyard are available for relaxing with dessert and coffee, with future plans to have full service seating there. Kevin stated simply, "We want to be much more than just a restaurant. We want to be a part of the community and a source of pride in that community."
Stab's Steak and Seafood Restaurant, 13438 Magnolia Square Drive (at the traffic circle on Lovett), 771-8181. Open Wednesday through Saturday from 11-2 and 5-10, and Sundays from 10-9. www.StabsCentral.com. Reservations are not required but recommended.