Editorial/Op
Who Got Arrested?
By
|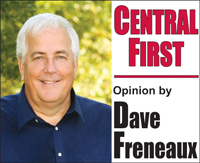 Beth and I launched Central Speaks in 2010 with absolutely no newspaper experience, and it has been a long learning process. Our effort this past year to be more informative about criminal activity in Central has caused us now to deal with the very sensitive subject of: Who Got Arrested?
Examining the purpose of the newspaper helped us to agree on some guidelines. In reporting crime, we hope to accomplish three things which can make Central a better place to live.
First, Central Speaks seeks to raise awareness that crimes do occur in Central. It is our hope that a more watchful and careful public will keep citizens out of dangerous situations and will encourage people to report the suspicious activity they may see.
Second, we want citizens to understand that when they call 911, the EBR Sherriff's Office does respond, and quickly. It is important that a spouse that is a victim of abuse or a resident seeing suspicious activity, feels confident that a call for assistance will be handled quickly and professionally and will make a difference. The confidence that the Sheriff's Office has earned through its actions in Central is an important part of keeping Central safe, and reading about it in Central Speaks raises that awareness.
Third, we very much want everyone, living in Central or just visiting, to know that committing a crime in Central will bring on consequences. I am fairly certain that criminals are going to commit crimes, but if the message is clear enough, maybe they won't choose to commit them in Central. The consistent publishing in Central Speaks of arrests in Central should send that message.
But who got arrested? The answer is, that to serve the purposes above, it doesn't really matter. In addition, consider two things. Arrests are not convictions, and are sometimes found to be honest mistakes of identity or circumstances. Also, the publishing of the photo and name of a suspect can make an already devastating event worse on innocent children, parents, spouses, and even victims.
So expect Central Speaks to be outspoken on crime, reporting all we are aware of, but don't be surprised when the arrested suspect is a nameless "27 year old Central resident." There will be exceptions to this new approach when the public good outweighs all other factors, and you may see a photo and a name. We will also continue to publish information on fugitives, but that is a very different arena.
It is our hope that the responsibility we feel at Central Speaks to raise awareness of crime helps to make Central a safer place to live. We also hope that withholding the names of suspects and victims to avoid the potential damage to families and victims will be Good News for a Great City.