Editorial/Op
Unfinished Business
By
|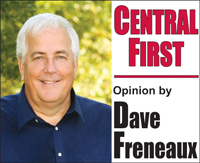 More Public Records Found
In January, City of Central attorneys told Judge Don Johnson that Mayor Shelton's administration had turned over all public records that had been requested. Last Friday the City of Central released 394 pages of public records that were requested on…… November 9, 2015.
When I picked up the records on Friday I was told that there are more to come. On May 16th the Public Records hearings will continue when Judge Johnson rules on a motion to compel the City to release the list of documents Mayor Shelton's administration claims are exempt from Public Records Requests.
"We Are Going To Make This City Grow" – Mayor Shelton
I attended Tuesday's meeting of the newly-formed Economic Development committee and heard Mayor Shelton's vision for the City of Central loud and clear. He emphatically told those at the meeting, "I believe this committee is committed to do it. This administration is committed to do it. The Council is committed to do it, and we will not be deterred. We are going to make this city grow, and that is not a bad word."
I have a very different opinion on growth of this 200-year-old, quiet, rural community. I don't want anyone to "MAKE" Central grow… I want to "Let" Central grow. With good schools in a quiet and safe community, Central will certainly grow, but since our roads and schools are already having a hard time keeping up, let's not get in too big of a hurry.
TND Lawsuit
The lawsuit filed by Central citizens challenging the number of apartments allowed in the Shoe Creek Development is headed for the First Circuit Court of Appeal. Dave Freneaux, Mike Mannino, and Mike Stephens contend that the city violated its own ordinances when the City Council approved 250 apartments to be built across the street from Walmart. It will likely be four to six months before a decision will be made by the Court of Appeal.
Central Cares
See the front page for this one, but I have to mention this community workday effort again. It was a great morning and we will be holding a workday one Saturday morning each month. It feels good to be in service for our neighbors. Like "Central Cares" on Facebook or contact me at 413-1616 or Dave@CentralSpeaks.com to get involved. That would be Good News for a Great City.