Editorial/Op
Wants vs Needs – Funding Police Protection
By
|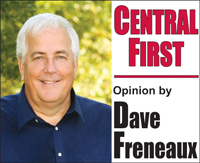 So that there is no misunderstanding, I respect and admire all of the law enforcement officers who are willing to put themselves in harm's way to protect this community, often as volunteers. In fact, I WANT an officer on every street corner and riding patrol in every neighborhood, forever ridding Central of crime.
However, what I WANT would bankrupt the City of Central, so, as a starting point, I will aim to settle for what Central NEEDS.
What do we NEED? By law, the City of Central must have a Chief of Police. My understanding of the law also requires that all traffic accidents occurring within our city limits be written up by a Central Officer. These things required by law, I call "needs".
Needs assessment. The first thing I would like to see is a detailed plan to meet these needs, but only these needs. Let's not mix in the wants yet. In addition to the Chief, how many volunteer hours are needed to write up accidents? Does the city need paid officers to do this? How many vehicles are required to meet this need? This plan needs to be specific, detailed, and designed to meet only this need.
The EBR Sheriff's Office has done an excellent job ensuring the safety of the Central community for decades. The last time I checked, the citizens of Central pay close to $2 million in property taxes to support EBRSO. In my opinion, that is money well spent. EBRSO allocates manpower to patrol and work in Central, and can move officers in and out of Central as needed. EBRSO also has a volunteer officer program.
Now let's look at what we WANT. If Central wants more police coverage than EBRSO schedules, Central can pay $30 per hour for "Extra Duty Patrols." These are EBRSO officers, using Sheriff's vehicles, dispatched by EBRSO dispatchers, on patrol in the City of Central. That is quite a value for $30 an hour. In fact, for some years now Central has been paying for up to 4,000 hours of extra duty patrols each year.
Central can also meet this WANT by putting more Central Police Department officers on the road to patrol, but at what cost? I have seen reports on the hours worked by CPD volunteers, and I certainly respect that these men and women volunteer their time, asking for no pay.
However, the overhead required to run a police department is expensive, and there is a cost-per-hour to provide these patrols, even when the officers volunteer their time. The Central Police Department budget was $190,000 when our current elected officials took office. The proposed budget for 2016/2017 has more than doubled to $426,000.
Before agreeing that growing the Central Police Department is a good idea, I would need to know our actual cost per hour for these patrol hours. I would be remiss in not at least mentioning the important issue of the liability involved in putting officers on the road as well.
The group who fought for incorporation of the City of Central made the promise that the citizens of Central would not be double-taxed in Central for services we pay for at the Parish level. I question at what point the City of Central may be duplicating the services provided by the Sheriff's Office. The only way to fully understand this is to decide what Central NEEDS, know the cost to provide that service, then decide the most cost-effective way to add in what Central may WANT in the form of officers on patrol.
I am not "against" the Central Police Department. For me, as a citizen and taxpayer, I would very much like for CPD to identify the resources required to meet Central's NEEDS, and articulate a long-term vision of the WANTS of extra patrols and how CPD can meet those wants at a reasonable cost. That would be Good News for a Great City.