Arts/Fun
LPCC Final Dinner Theatre This Month at Central High
By
|
Grab your friends and join the fun while supporting the arts!
LPCC Dinner Theatre July 14, 15 & 16, 2016 at CHS
Cosmic Con 3001: A Space Odyssey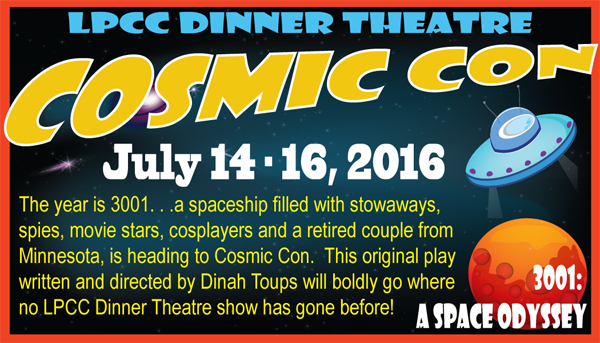 The year is 3001…a spaceship filled with stowaways, spies, movie stars, cosplayers, and a retired couple from Minnesota, is heading to Cosmic Con on the moon! Written and directed by Dinah Toups, this play will boldy go where no LPCC Dinner Theatre show has gone before.
Tickets are available online via paypal: www.LPCCsing.org. The evening will be catered by Bantaa's Catering. You don't want to miss this!
Dinah is retiring, and it will be LPCC's LAST Dinner Theatre! Three nights only: July 14, 15, and 16. This year, the event is coming to Central High School!
Doors open at 5:30 p.m. for raffles & fun activities. Buffet dinner catered by Bantaa's begins at 6:30 in the gymnasium. The play will be presented across the hall in the beautiful Central High School Auditorium.
G-Rated Cosplay is welcome!
Tickets are available online via paypal at www.LPCCsing.org, or you may call or text Barbara Walker at 225-247-8555 or email info@LPCCsing.org. Individual Tickets are $35 each, or you can book a full table of 8 for $240 ($30 each). Sponsor Tables are available for $500.