Community
Lane Regional Medical Center Names Bruce Williams Employee of the Year
By
|

Submitted by Lane RMC
Lane Regional Medical Center named Bruce Williams, a Therapy Tech in the Rehab Services/Physical Therapy department, as the 2011 Employee of the Year. He received the honor at the hospital's annual "Employee of the Year Luncheon" at Sammy's Grill in Zachary.
Williams has worked at Lane for more than 16 years and was recognized for his dedication and outstanding work. He was named the May 2011 Employee of the Month and was selected Employee of the Year from his fellow monthly winners.
"This is emotionally unbelievable!" said Williams. "I am very, very thankful!"
"Bruce is a people person and is always looking for ways to help others," said Mike Hlavac, director of Rehab Services. "He gives great care to his patients and is a champion of great customer service."
Williams, a native of Centreville, Mississippi, resides in Baker. He is an avid LSU and Southern University sports fan and especially enjoys football and basketball. Bruce also enjoys returning home and attending church in Liberty, Mississippi with his grandmother, Edith, and his mother, Virginia.
Also recognized at the luncheon were 2011 employees of the month: Donna Maggio, Shaneka Johnson, Adrienne Richardson, Mary Gunter, Brittany Casey, Dee Thomas, Martha Forbes, Tina Nations, Sharon Callahan, Bennett Templet and Russell Arceneaux.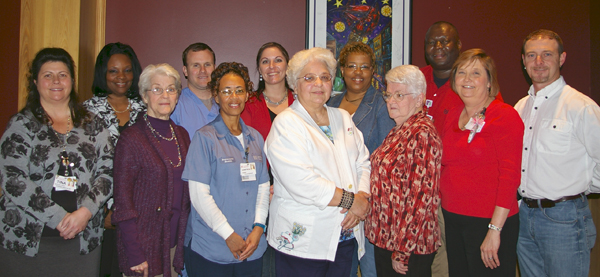 (left to right) Tina Nations, Adrienne Richardson, Martha Forbes, Bennett Templet, Dee Thomas, Brittany Casey, Sharon Callahan, Shaneka Johnson, Mary Gunter, Bruce Williams, Donna Maggio and Russell Arceneaux.