Community
2nd Amendment Rights, Conceal and Carry Gun Laws to be Focus of RWC Meeting
By
|
Submitted by Betsy Barnes
"A free people ought not only be armed and disciplined, but they should have sufficient arms and ammunition to maintain a status of independence from any whom might attempt to abuse them, which would include their own government."
– George Washington
Second Amendment rights, conceal and carry gun permitting requirements and registration for the gun licensing and safety course will be the focus of the Republican Women of Central Membership Meeting and Dinner to be held on Monday evening, March 19, 2012 at Kristenwood Reception Hall on Greenwell Springs Road in Central.
For the first time in Central, the Republican Women of Central will be sponsoring speakers addressing the facts and fears surrounding gun ownership, self-protection, state and federal laws and enforcement.
The public is invited. Cost to attend is $20 per person including meeting, dinner and door prize drawings. Doors open for socializing at 5:30p.m., buffet opens at 6p.m. and the meeting starts at 6:30p.m. A raffle fundraiser for RWC's Dictionary Project benefitting all Central 3rd graders will also be held. Dinner will be free to registered Republicans who join RWC at this meeting.
Gordon Hutchinson, Central native, senior state firearms instructor, author, retired reserve EBRP Deputy Sheriff and Central Police reserve deputy will be among the featured speakers on state gun regulations, conceal and carry licensing preparation and course requirements. He teaches proficiency and permit preparation at both the Baker Range and Bass Pro. The eight hour courses are offered two or three times monthly and registration will be available.
Lydia Reynerson, owner of Reynerson's Gunsmith and Firearms will display handguns and offer information on trends in gun and ammunition purchases and availability during election years and specifically this election year. Reynerson's is located on Hooper Road, and is known nationally for their expertise and support of hunters, gun enthusiasts, and protecting the rights of gun owners.
Second Amendment rights and the legalities of the U.S. Constitution will be addressed by the Attorney General's Office. Additional legal experts will be on hand to answer questions regarding specifics in the laws. Please RSVP via email to RepublicanWomenOfCentral@yahoo.com or call (225)333-0018.
All registered Republicans are invited to join RWC for annual dues of $35 for women and $25 for men and women associated with another club within Louisiana Federation of Republican Women. For information on membership, future events, sponsorship and to volunteer, please email, or message the group on Facebook. RWC's website address is www.LFRW.org/RepublicanWomenofCentral.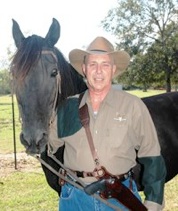 Gordon Hutcinson, a featured speaker