Sports
LHSAA Bowling State Playoffs Central Blows Out Runnels and Upsets Catholic (Again!), Advances to Round of 16, Runs Winning Streak to 10 Matches
By
|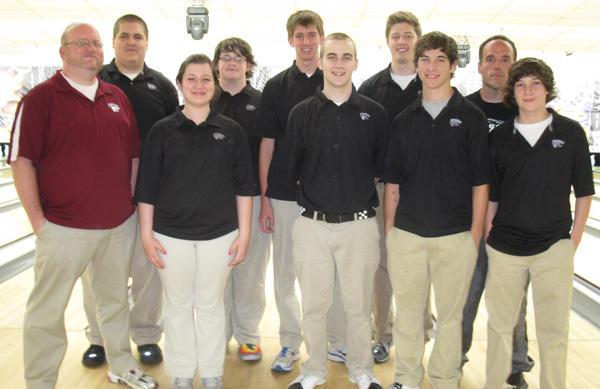 Submitted by Coach Godley
Central High Varsity Bowling (8-4) is proving every match that they are slowing becoming a powerhouse team themselves. With six bowlers of the current eight returning for next season, 2012 wasn't suppose to be the year the Wildcats make a deep run in the state playoffs. But after Monday's (3-26-12) action in the Regionals of the LHSAA State Playoffs that is exactly what Central is looking to accomplish and make the "Final Four" for the first time ever in CHS's history. Central dismantled The Runnels School (4-6) and Catholic High (11-1) in Rounds 1 & 2 on Monday and will be bowling next week at Circle Bowl on Tuesday (4-3-12) at 1PM in the 3rd Round.
Round 1 was a quick match as #7 seeded Wildcats blew out #10 The Runnels School, 25-2. Only needing 14 points to win a match, Central had the match wrapped after 2 games leading 15-1. The Wildcats came out strong in Game 1 behind Jacob Garretson's (Freshman) impressive 267 (a new Central Boys' High Game Record!) and Sean Murphy's (Sophomore) 191. The good bowling continued in Games 2 & 3 with Garretson also shooting a 196 and a 630 series, Caleb Owens (Senior) with a 194, Alex David (Junior) with a 182 & 179 and Bryan Waites (Junior) with a 175. After the scores were all added up, Central won by almost 800 pins, 2799-2008.
Round 2 was surprisingly like Round 1. Round 2 was against bowling powerhouse, 2012 5A District Champions and #2 seed Catholic High (11-1). This was a rematch the Central's coaches had been hoping for in the playoffs. Central and Catholic split the regular season matches and Catholic's only loss was against Central High. But this match didn't go like the first two matches the schools had earlier this season by coming down to the last game. Instead, Central came out swinging and delivered a knockout punch early in the match. In Game 1, the first four frames summoned up the match as Central was on fire throwing strike after strike. In the first four frames, two Wildcats had a double, two had turkeys and Owens started with the front four. Catholic never seemed to recover after the early onslaught of strikes. After Game 2, Central had officially won the match, 14-2! In Game 3, Central went on cruise control and emptied the bench. Even without all the starters bowling, Central almost beat Catholic in Total Pins the last game. The final score was 19-8 and 2829 to 2749 in Total Pins. David led the way with a 200 game and a 540 series, followed by the newest Wildcat, Owens with a 196 & 181 and a 524 series, then Garretson with a 183 & 181 and a 512 series and Murphy's 171 and 474.
Central's winning streak is now up to 10 matches and moves on to the Bi-Regionals this Tuesday at Circle Bowl at 1PM against #3 Redemptorist. Bi-Regionals will consist of 5 teams from the Baton Rouge area and 3 teams from the New Orleans area. Only two teams will advance on to the State Finals on April 14th to bowl against two teams from the Lafayette/Bossier area in the LHSAA Final Four. Central's coaches would once again like to thank all the parents, teachers, students, friends and Principal Bob Wales for coming out to support the team this past Monday. The team looks forward to having everyone's support once again this Tuesday at Circle Bowl.
FOLLOW AND "LIKE" US NOW TO GET UP-TO-DATE RESULTS FROM MATCHES:
http://www.facebook.com/CentralHigh
WildcatsVarsityBowling