Community
Today is Welcome Home Vietnam Veterans Day
By
|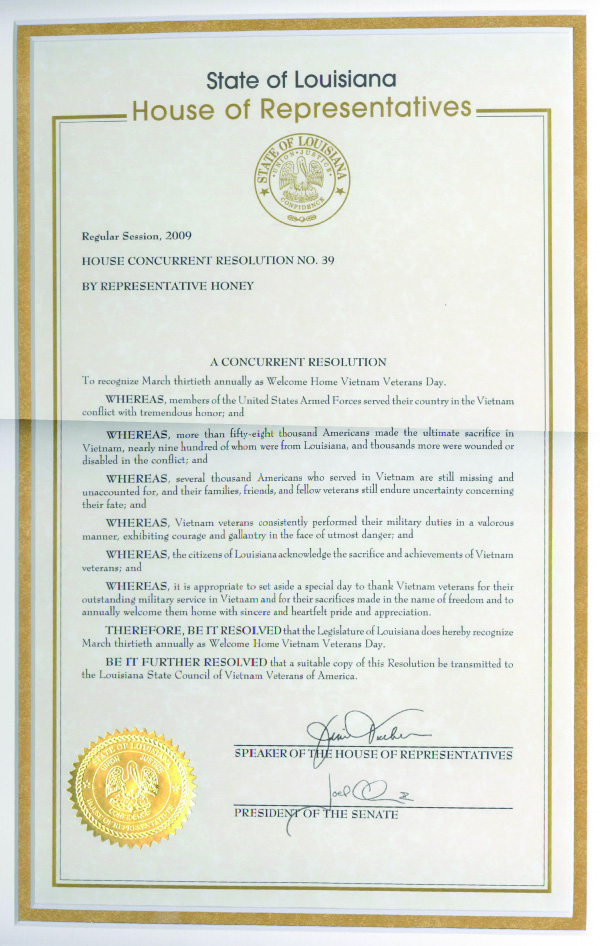 Photo submitted by Tom Colello
In the 2009 Legislative Session both the House and Senate joined many other states and municipalities in unanamously passing House Concurrent Resolution No. 39 establishing March 30th annually as Welcome Home Vietnam Veterans Day.
Many states have now adopted this legislation. A local man brought the item to the attention of Representative Cliff Richardson, who introduced it in the House and then onto the Senate where it was also unanimously approved and signed.
The purpose of Welcome Home Vietnam Veterans Day is described in the legislation: "The citizens of Louisiana acknowledge the sacrifice and achievements of Vietnam veterans; and… it is appropriate to set aside a special day to thank Vietnam veterans for their outstanding military service in Vietnam and for their sacrifices made in the name of freedom and to annually welcome them home with sincere and heartfelt pride and appreciation." Over 58,000 Americans gave their lives in Vietnam, and almost 900 of those were from Louisiana. Thousands of soldiers were wounded, and many others are still unaccounted for to this day. If you know a Vietnam veteran, please take a moment Friday to thank them for serving their country.