Community
Central Lodge #442 Honors Members
By
|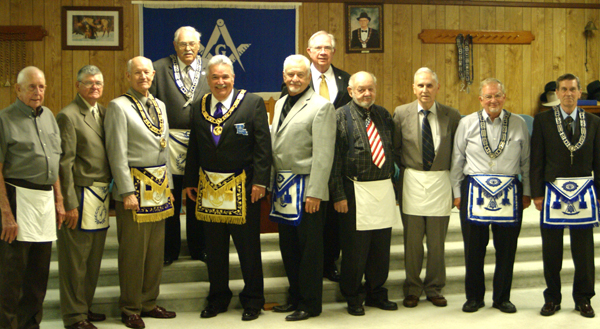 Left to right: Gerald Sides, Randolph May, Harold Ballard, MWGM Frank Du Treil, James Esch, Al Cutrer, L.W. Alexander, David James, and Paul Lawrence
Back row, L-R: Robert Lee, Guy Jenkins
Submitted by Robert Lee
A special meeting of Central Lodge 442 was held Thursday April 26th to honor Past Masters of the Lodge and to present awards to members who achieved 25 and 50 years as Masons. The Grand Master of Masons of the State of Louisiana, Frank N. Du Treil, Jr., was the keynote speaker, and other members of the Grand Lodge were also present.
Each Past Master spoke of the events that occurred during their year as Master of the Lodge, and their appreciation of the help, support and fellowship they received as members of Central Lodge.
Brother Hilton Davis received a 50 year certificate, pin, and lapel name tag. Brother Roy Pierce was presented with a 25 year certificate. The Grand Master completed his remarks by reminding everyone of the support their wives give to Masons in all their activities across the state.