Community
Bike-a-thon Raises Funds for St. Jude
By
|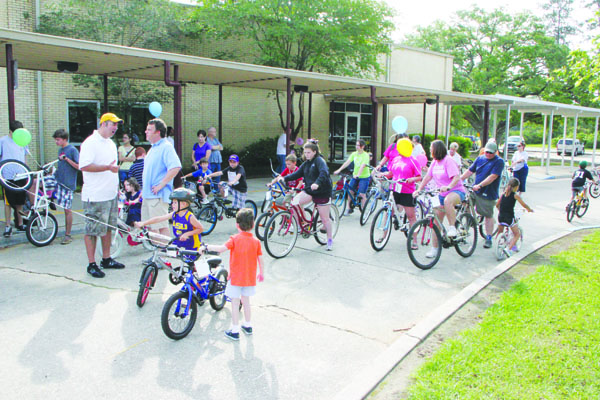 By Mia Freneaux
In spite of a very unfavorable weather report, Chuck Langlois' band of merry bikers met at the appointed hour last Saturday to once again work a miracle for St. Jude Children's Research Hospital. Ranging in age from infant to grandma, each and every one of the participants was smiling and enthusiastic as they pedaled up to the starting line.
Central has a lot to be proud of. Half of the Sluggers baseball team was there with their coaches, all of them competing to be the next Tour de France winner (2 of them won prizes for most laps – 20!). A five year old participant had such a head of steam his pedal fell off. "I was going so fast, I broke it," he shrugged philosophically. Kenlie, Chuck's niece, was there with her mother and grandmother participating – 3 generations! The Butler boys sported matching Batman t-shirts. A very courteous young man whose grandmother promised him $2.00 for every lap he pedaled was happy when he racked up 19 laps! Those who couldn't bike cheered on those who could. Several people with physical handicaps didn't allow that to keep them from helping – they were either pushed by folks walking, or pedaled by others on tandem tricycles – a very inspiring sight. Stephanie with All About U Massage did a brisk business – all for donations to St. Jude. And moving tirelessly among all of these people, including biking on his brand new LSU colored tricycle, Chuck Langlois couldn't stop smiling as he saw his efforts come to fruition.
Thanks go out to Bellingrath Subdivision for once again being gracious hosts, Asst. Chief Bobby Eller of the Central Fire Department, Chief Doug Browning and Ofc. Steve Cottano of the Central Police Department, Stephanie Sanders of All About U Massage, Chris Ferrara of Ferrara Fire Apparatus, Ted Hebert, DeAngelo's , Central Pools, Tiger Central, Sullivan's, Greco's, Central Rehab, Carol w/Roco, Sharon's Beauty Shop, Whitney Bank, Uniquely Yours, Walgreens, Voodoo Barbecue, Logical Investment Solutions, Carmena's, Future Hope Ministries, A+ Cleaners, Dr. Walter Vaughn, GM Cable Contractors, Central Plumbing, Central Drug Store, Oak Point Fresh Market, Custom Clean Carpets, Central Lion's Club, B&B Cabinets, State Farm JP Rice, St. Alphonsus Men's Club, and Christi Langlois, Chuck's personal angel. Participants – your donations are due to Chuck by May 30, don't forget! Till next year….