Community
Central Residents Finish First at US Finals Cheer Competition
By
|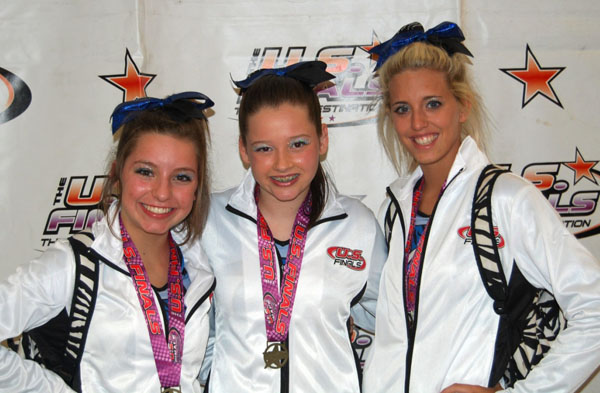 Central Residents and Tiger Cheer Senior CoEd athletes from L to R: Morgan Blanchard, Hannah Wall, and Katelyn Broussard at the US Finals. Not pictured is Allie Prather.
Submitted by Carmen Evans
Central residents Morgan Blanchard, Katelyn Broussard, Hannah Wall and Allie Prather, all members of the Tiger Cheer All Stars Senior Co-Ed Level 3 competitive cheer team "Beast", recently participated in the U.S. Finals, where their team placed first in the South Central Region, consisting of teams from across the South. Their U.S. Finals win capped off an undefeated season where their team won 6 First Place titles, 3 National Championship titles, 3 Grand Champion titles, and was awarded a full paid bid to compete in the U.S. Finals, where they also finished 1st in their division for the second year in a row!
The U.S. Finals is the premier cheerleading competition to determine a team's national ranking against other teams from all across the United States. These cheerleaders and their Tiger Cheer teammates are currently waiting for their final national ranking, to be released within the next week. Good luck to Morgan, Katelyn, Hannah, Allie, and the rest of the Tiger Cheer All Stars! Tiger Cheer is located on Flannery Road and offers recreational (ages 3-14) and competitive (ages 5-18) cheer teams for girls and boys, tumbling classes, and more. Tiger Cheer is currently conducting team placements for next season, and new members are welcome to join! For more information on Tiger Cheer All Stars, or for tryout information for the 2012-2013 season, please visit www.tigercheerbr.com or contact Missy Duhon at 610-0814.