Announcements
Remembering Matthew Lane Gerald
By
|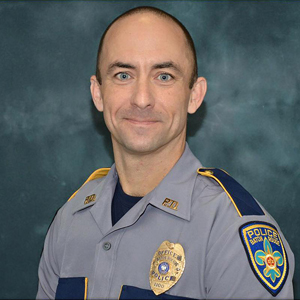 The epitome of a proud American, Matthew Lane Gerald gave all on Sunday morning, July 17, 2016 at the age of 41. His ultimate sacrifice took place as he valiantly protected and served his community. Although his journey was long and successful, Matt truly found his calling when he graduated from the BRPD academy in March of this year. His love and passion for "wearing the blue" was evident to all that had the privilege to know him. Call number 8211 in District 3 could not have been worn with more honor or pride.
Following his graduation from Central High School, Matt initially pursued a career in the military just as his mentor and hero "Paw Paw Pete" did. He achieved the rank of U.S. Army Specialist, earning four air medals. In addition, he was a Black Hawk Crew Chief, a Longknife Squadron member and Stetson Troop 4/3 ACR member. Matt was a Corporal in the United States Marines and also completed 3 tours of duty in Iraq. He has, with all certainty, made his "Paw Paw", family and friends incredibly proud. Some of his closest friends in the "Stetson Crew" include: Officer Ryan Cabral, Nick Lambert, Josh Linn and Delvin Goode. His love and friendship with these men never wavered. The Army Aviation motto is "Above the Best". Not to be misinterpreted as "we are better than the best", it simply means when flying, we are always flying above the best in the world. Matt was part of the best.
Affectionately called "Benjamin Buttons" or "Mr. Buttons", by his BRPD family, Matt relentlessly showed others "good" through his own actions. Strongly influenced by his FTO, Brad Barr, Matt would strive to always work clean, proactively, and honestly, just as his mentor and friend did. The special bond he shared with fellow officer Chad Montgomery was without a doubt formed and maintained by their near identical dispositions. As easy-going as they both were the majority of the time, they would not hesitate to voice their opinion if something was said or done that challenged their own morals and values.
Staying busy by always helping others came naturally to Matt, but he did enjoy hunting and fishing when he had the time and needed to decompress. The love of his life however, was family. Matt was an amazing husband, son, brother, father and friend. He is survived by his devoted, loving, and proud wife, Dechia Badeaux Gerald, his step daughter, Dawclyn Badeaux (9) and daughter, Fynleigh Gerald (3). Heartbroken parents are Ronnie "RG" and Patricia "Tish" Gerald. Matt's brother, Marc Gerald, his wife, Traci and Matt's nieces Madelyn and Leah also mourn his loss. In addition, he is survived by his Godson, Wyatt Sledge, numerous aunts, uncles, cousins, in-laws and friends. Matt's military family and "Thin Blue Line" brothers and sisters will miss him beyond words. Matt was preceded in death by his maternal grandparents, Ada Cravens and Charles Ancona; his paternal grandfather, Dudley Gerald; his paternal grandmother Beadie Jumonville and his extremely influential paternal step-grandfather, Peter Jumonville (POW).
Visitation was held at the Resthaven Funeral Home Chapel in Baton Rouge on Thursday, July 21, with recitation of the rosary led by Father Frank Bass. Visitation resumed on Friday, July 22 at Healing Place Church in Baton Rouge followed by an service by officiant Mike Haman. Respectfully following Matt's wishes, he was buried in the Louisiana National Cemetery in Zachary with a military honors grave side service following the service at Healing Place Church. Privileged and honored pallbearers are Justin Badeaux, Erin Henley, David Mulkey, Kyler Repp, Darren Waguespack and Keith Waguespack.
The family wishes to extend its deepest gratitude to all family, friends and the public who have selflessly given during this most difficult time. Your gifts and donations, in addition to the outpouring of love, support and prayers received are nothing short of overwhelming. "We got your 6" and "Semper Fidelis" will always remind us of Matthew Gerald. Thank you Matt for your bravery and dedication to our country, our community and our fellow man. You ARE a hero.